Residential Mailbox and Post
The MailboxWorks carries a wide selection of residential mailbox and post options. You will find many mailbox styles and unique designs that can match virtually any style of home decor.
Curbside appeal is important to a home's appearance (and standing) within a neighborhood, especially neighborhoods that still have walk up mail delivery. A residential mailbox and post may be just what you have been looking for!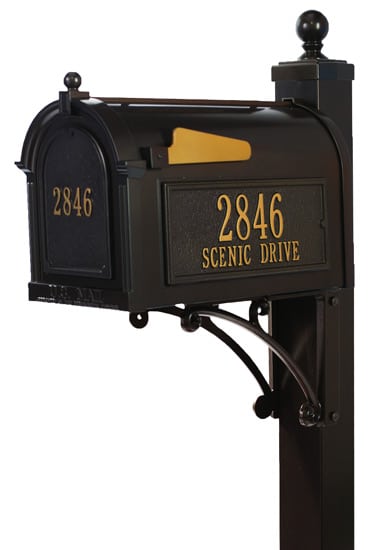 Each home has a different exterior and color scheme. That's why a custom residential mailbox and post is an excellent choice for the homeowner with distinguishing taste. Selecting a custom residential mailbox to perfectly compliment the outside decor translates into adding a look of class and increased value to your home. By choosing a custom post mount mailbox you have the ability to add accessories that correspond exactly to your personal taste and your home's unique characteristics.
Depending on your home's type of construction and main building material, you'll want to choose an appropriate style for your residential mailbox and post combo. The MailboxWorks carries many unique residential options in our inventory that will complement the materials and designs of outdoor decor. Our unique post mount mailboxes come in a variety of mounting configurations and security preferences. Many size, color, and material options also give you an excellent opportunity to find that perfect unique mailbox for your home.
These secure residential mailboxes provide an extra dimension of security if you desire this feature or live in an area where it is needed. Your new locking residential mailbox will be constructed of quality hardware components that are essential to keeping your mail secure and private. You will also have the option to choose from several configurations of color, size, and material, including aluminum, stainless steel, and galvanized steel. We also carry locking residential mailboxes that can either be post mounted or column mounted.
The mailbox located at the edge of your property provides convenient drive-up mail delivery and access, but it is also part of the display and presentation of your home's exterior. The right kind of residential mailbox and post can make a significant difference to the outward appeal of your home to the community. Here at the MailboxWorks, we carry many of the top residential mailbox and post brands including Amco, Janzer, Special Lite, and Whitehall mailboxes, among others. We are confident that we have the perfect residential curbside mailbox and post that will complement and enhance the architectural form of your home.
The options are numerous for the wall mount residential mailboxes we offer. Styles range from classic and handmade to contemporary and modern. A variety of finishes also provide a way to produce the perfect appearance around your entranceway. Residential wall mounted mailboxes are also offered as either locking or non-locking mailboxes, depending on your security requirements.
Ask Us About Residential Mailboxes for Sale
The addition of a stylish and distinct looking residential mailbox would make a significant improvement to any home's overall visual appeal.
For more information about any of our residential mailbox and post products including locking residential mailboxes, please contact us online or call The MailboxWorks toll free at 1-866 -717-4943.
Along with residential mailboxes, theMailboxWorks also sells House Numbers and Letters and Address Plaques.
---
Customers who trusted us with their projects: