Showing 1–24 of 366 results
4C Mailboxes Features | 4C Mailbox Options | 4C Mailbox Applications and Mounting | 4C Mailbox Installation | 4C Mailbox Ordering | Frequently Asked Questions
USPS Approved 4C Commercial Mailboxes
The MailboxWorks offers many types of USPS-approved, pre-configured 4C horizontal mailboxes by Auth Florence Manufacturing. You can mix and match these cluster mailbox modules to customize your centralized mail delivery system.
Both front-loading and rear loading 4C horizontal mailboxes offer secure mail delivery solutions to apartments and multi-unit tenant buildings. These buildings must be under property management and be USPS serviced. These USPS-approved mailboxes install inside or outside a building. They may also be recessed or surface mounted in a wall or mounted in a kiosk. However, rear loading mailboxes require a secure mailroom for the USPS carrier access to load the mail.
Auth Florence 4C horizontal mailboxes are easy to use and very versatile. They undergo strict security testing by the USPS. These mailboxes have thick, vandal-proof reinforced mail collection doors with one-piece extruded hinges designed to resist prying. They also have standard heavy-duty cam locks. Additionally, they also have at least one parcel locker for every ten mailbox compartments.
For security and privacy reasons, and to better comply with accessibility regulations, we recommend that your horizontal mailbox compartment number in order.
4C Mailbox Features
USPS 4C Standards
These Florence mailboxes have been designed to meet or exceed USPS standards. As of October 5, 2006, the United States Postal Service requires that all new construction and all major renovation projects install only USPS STD-4C compliant mailbox systems. The following outlines some of the new USPS STD-4C Compliant Standards:
Minimum tenant mailbox size requirements – 12"w x 15"d x 3"h
Parcel locker requirements – 1 parcel locker for every ten tenant mailboxes (1:10 ratio)
Standardized locks with stainless steel latching hook cam for all tenant mailbox doors
Weatherproof outgoing mail compartment with an anti-fishing comb
Improved construction with anti-pry overlapping seams that interlock
Required testing for acceptable standards for indoor and outdoor mailbox installation
Must meet the standards of the Americans with Disabilities Act (ADA)
Improved and enhanced security requirements including anti-theft reinforced mail collection door and anti-prying, single-unit extruded door hinges
USPS Approved
Before installing your new USPS-approved 4C mailboxes, the MailboxWorks recommends that you first check with your local postmaster. The USPS will need to approve your intended location and placement of these mailbox suites. Only the USPS can install the master lock on the main access door. USPS is also the only one with the master lock keys that access all tenant compartments through the main access door.
Five Year Warranty
Your new mailbox suite comes with Florence Manufacturing Company's 5-year Product Warranty. The 5-year warranty covers any manufacturing defects in workmanship and/or materials. For more warranty details, see the Florence Product Warranty PDF file.
Parcel Lockers
These mailbox suites may be ordered with or without parcel lockers. Parcel lockers are used for delivering mail packages that are too large to fit inside a tenant's mailbox. Please see our 4C mailbox FAQs section to learn more about how the parcel lockers work.
Outgoing Mail Slot
These mailboxes come equipped with an outgoing mail slot so tenants can post their outgoing mail.
4C Mailbox Options
Color Finish Options
The MailboxWorks offers eight different color options. These include dark bronze, antique bronze, gold speck, and silver spec, as well as black, white, postal grey, and sandstone.
New USPS Approved Tenant Door Heights Available
Florence Manufacturing recently introduced a new set of mailbox door height options. The new door heights allow you to further customize your centralized mail delivery system. The standard tenant mailbox height is 1 inch. However, mailboxes can now be ordered in 2", 3", 4", or 5" high. Even outgoing mail collection compartments can be ordered in the same five height options. For more information, see our page on Door Size Options for 4C Mailboxes.
Tenant Mailbox Door ID Options
Florence mailbox tenant doors come with the standard 1.5″ x 1.75″ silver decals. They may be customized with engraved numbers. These numbers have a white fill, a black fill, or no fill. Mailbox door decals number in order. This is recommended to ensure the privacy and safety of the tenants.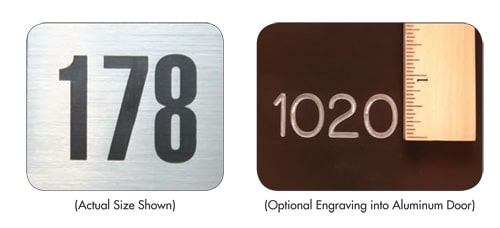 4C Mailbox Applications
The United States Postal Service has rigid guidelines when it comes to construction standards. All 4C horizontal mailboxes are subject to installation requirements for maximum height and distance from the ground.
In October 2006, the USPS-STD-4C was put into motion. This applies to all wall-mounted commercial mailboxes for centralized mail distribution. These include all mounted gang mailboxes installed in urban and rural settings. Centralized mail delivery systems are highly efficient for mail delivery and collection. They offer better mail protection. Additionally, they allow easier access for both the tenants and the USPS mail carriers.
4C Mailbox Mounting Options
Recessed 4C Mailboxes
The most common type of installation for these mailboxes is recess mounted. The word recessed means the mailbox suite is set back into the wall. For rear access mailbox compartments, the back of the mailbox suite must be accessible through a secure mailroom located behind the wall. For front access mailbox compartments, the mailbox suite must have a front access master door.
Surface Mount Collar
Sometimes the mailbox suite cannot be recessed into a wall. Because of this, Florence offers a surface-mounted unit that uses a surface mount collar. This mailbox collar is specifically made for use only with front-loading surface-mounted mailboxes. The collar adds a finished look to your new mail delivery system. The mailbox surface collar is installed first. Then the matching mailboxes are recessed into the collar.
4C Pedestal Mailbox Options
4C pedestal mailboxes have been discontinued. Please click on the link for more information.
4C Mailboxes Front Loading
Florence Manufacturing front loading 4C mailboxes have all-new tenant and parcel door sizes. They also have mail collection and outgoing mail door slot options.
The modular design allows these Auth Florence horizontal mailboxes to be configured with up to 20 tenant doors per module. Plus, individual commercial mailbox compartments can be customized to include single, double, triple, quadruple, and quintuple equivalent-sized mailbox compartments.
Both front load and rear load horizontal mailboxes are finished with a weather-resistant powder coating. They are also available in up to 10 different colors.
Auth Florence cluster mailboxes are easy to customize. There are limitless layout options. You can choose from:
• Five different mailbox door sizes
• Plus 4 optional parcel door sizes
• And five possible outgoing collection box sizes
4C Mailboxes Surface Mounted
If your project does not have the proper wall depth to recess mount your front-loading mailboxes, no worries! You can surface mount the mailboxes with a surface mount collar.
Surface mount mailbox collars include the mounting hardware with hidden fasteners. With the collar, your mailboxes can be installed on any wall with regular wood studs. Mailbox surface mount collars may also be installed into other surfaces using the right hardware. The collars also have a powder coat finish to match your 4C mailboxes.
4C Mailboxes for Private Mail Delivery
Florence mailbox suites may be changed for "Private Mail Delivery Service." You can order the private mailbox conversion kits here. Private use 4C mailboxes do not include the USPS arrow lock on the master door. The conversion kit can be used for both the postal access door and the parcel locker doors.
Front Loading 4C Mailbox Suites
Front-loading Florence mailbox units are the most common. They include a USPS installed arrow lock that lets the mail carrier access all tenant mailbox compartments with a master door. Only the USPS can open the front access master door.
Rear Loading 4C Mailbox Suites
Although less common, rear access mailboxes must be recessed into a wall. That allows the mail carrier access through a secure mail room behind the mailbox suite. Rear access 4C mailboxes do not have a front access master door. The rear access door does not have a locking mechanism. If you need help to determine whether you need front access or rear access 4C mailbox units, please contact our mailbox experts.
4C Mailbox Installation
4C Mailbox Installation Guidelines
No matter what you are installing, you can find The MailboxWorks versatile 4C mailbox suite installation guidelines here. Be sure to contact your local postmaster and follow the USPS Installation Requirements found in the 4C mailbox installation guidelines.
Versatile 4C Mailboxes Installation Height Requirements
The United States Postal Service requires that all new construction and renovations install only versatile 4C mailboxes. These mailbox suites must be installed according to specific height requirements set by the USPS. The minimum allowable height from the finished floor is as follows:
28 inches if the mailboxes include bottom row tenant mailboxes
15 inches if the mailbox suites DO NOT have bottom row tenant mailboxes
4C Mailbox Installation Requirements
All Auth Florence commercial mailboxes for sale are STD-4C compliant and are USPS approved. Each state or region may have its own accessibility regulations. Therefore the MailboxWorks recommends asking your local post office to review the location of your new mailboxes.
If you are unsure of the installation requirements for these mailboxes or need help configuring your order for your project, please ask us for assistance. One of our commercial mailbox experts would be happy to help you.
4C Mailbox Ordering
Determining the Number of Tenant Doors you Need
Florence mailbox suites can be ordered with up to 29 tenant mailbox compartments. For USPS postal delivery, your 4C mailboxes must have at least one parcel locker for every 10 tenant mailbox compartments. For instance, a mailbox suite with 20 tenant mailboxes would require at least two parcel lockers. Mailboxes that are ordered for private mail distribution can be purchased with or without parcel lockers.
Discount Pricing on Bulk Orders
The MailboxWorks already offers 4C mailboxes at prices below the manufacturer's recommended list price. We also offer more discount pricing on bulk orders between 2-5 units and for orders with six or more cluster box mailbox suites.
Shipping Times
Unless otherwise stated, the MailboxWorks offers free shipping with each 4C mailbox purchase. Depending upon your location, standard mailbox orders will usually ship within 2-3 business days and be delivered within 1 – 5 business days. For custom 4C mailbox orders, the shipping time is typically within 1 to 2 weeks and with delivery approximately 1 – 5 business days from the shipping date. Mailboxes are shipped directly from the manufacturer using a mail carrier.
4C Mailbox Replacement Parts
The MailboxWorks also offers a selection of 4C cluster mailbox replacement parts. If you cannot find the replacement part you need, please call our toll-free number at 1-866-717-4943 for assistance. Mailbox replacement parts may include key blanks, mailbox door decals, and mounting hardware, as well as mailbox replacement locks, conversion kits, and mailbox replacement doors.
Note: the product description content on this page has been paraphrased and reposted with the permission of Budget Mailboxes.