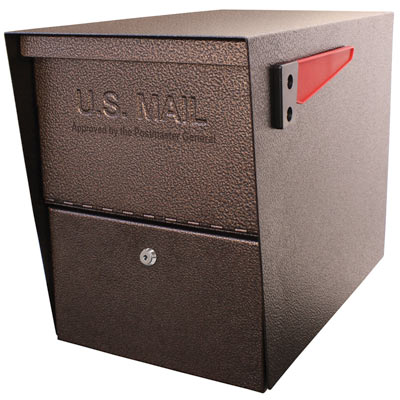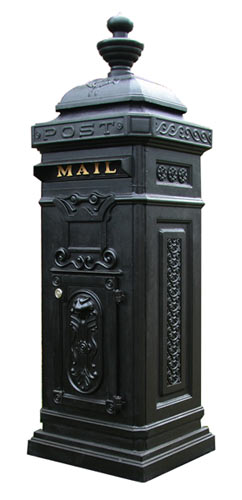 SHIPS FAST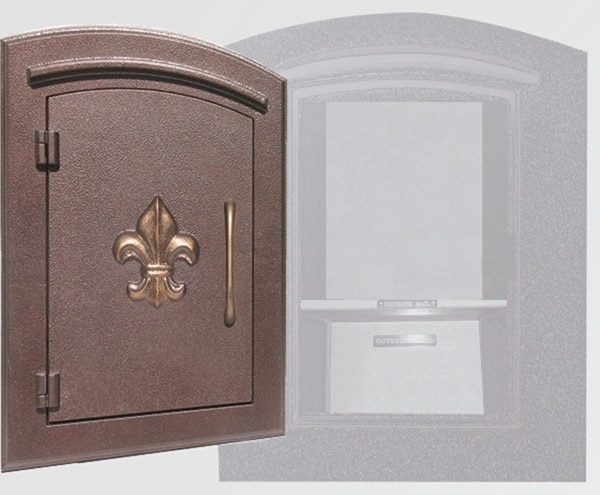 Buying a Locking Mailbox
Are you looking for a way to secure your mail better? Perhaps you have been the victim of mail theft. Or maybe your business requires valuable packages to be delivered. With the reality of growing identity theft and mail theft, more and more North Americans are upgrading their residential mailboxes to secure locking mailboxes.
Fortunately, today's mailbox makers are keeping pace. They now offer a variety of secure mailbox styles to keep your mail safe. Our mailboxes come with different mounting options such as post mount, wall mount, and pedestal mount. Whether you are installing a brand new mailbox, or you are looking to upgrade, our large selection has stylish and secure mailboxes for every need. Let the MailboxWorks help you shop for your perfect locking mailbox today!
Locking Mailboxes Prevent Mail & Identity Theft
When it comes to mail theft and identity theft, most of these crimes can be prevented. Install a locking mailbox and protect all your sensitive mail! Do not take chances with your bank statements, checks, bills, or any of your personal and confidential mail.
Are you are one of the lucky homeowners who still enjoys walk-up mail delivery? Install a locking post mount mailbox or a locking wall mount mailbox. This will decrease the likelihood that you will be one of the half a million people in America who have their mail and identities stolen each year.
The Mailboxworks carries a wide selection of unique curbside mailboxes with locks. You will also find pedestal-mounted mailboxes and column mount mailboxes, as well as wall mount mailboxes. These are highly secure mailbox products designed to deter mail thieves and ensure less crime in your neighborhood.
How does a locking mailbox work?
Most secure mailboxes consist of a slot for the USPS to drop off mail. They also have a secured or locked area where you pick up the delivered mail using a key. This means that checks, bills, bank statements, and other confidential mail are protected. It also means less crime! This is due to the fact that mail thieves will stop coming back once they learn they can no longer access your mail.
Don't be a victim. There are many secure options to choose from at the MailboxWorks.
Types of Locking Mailboxes
Locking post mount mailboxes are very popular. They come in a wide variety of styles, and, most importantly, they protect your mail. But they can also provide instant curb appeal for your home or property. You will need a post-mount mailbox if you have curbside USPS delivery. Most of our post mount mailboxes come with a locking insert option. Choose from multiple styles such as antique, colonial, modern, rural, and more!
The Mailboxworks carries nearly 4-dozen different styles of locking post mount mailboxes. Shop our entire collection of locking post mount options!
Package Mailboxes & Parcel Drop Boxes
Freestanding or package drop-boxes are also known as pedestal mount or column mount mailboxes. Heavyweight, fortified, and weather-resistant, locking pedestal mailboxes provide great value while adding charm to your home. Secure column mailboxes are beautiful and can be installed in most masonry column posts.
These extra-large capacity mailboxes are useful if you have daily package deliveries. They are also perfect for the frequent traveler who needs a mailbox to hold multiple days' worth of mail while they are away. Our selection of package mailboxes and parcel drop boxes is sure to have what you are looking for. These units are USPS approved and feature a keyless, hassle-free drop door mechanism for postal workers along with secure Anti-Pry keyed access for homeowners. Add an extra level of security to your curbside mail and package delivery with a fortified column mount mailbox.
Please contact us if you have questions about adding address letters and numbers before buying.
Mailbox and Post Combo
If you are looking for a locking post mount mailbox to match the style and character of your home, you'll find it at The MailboxWorks. Check out our classic, Victorian, and modern residential post mount mailbox options.
Pedestal Curbside Mailboxes
For a little nostalgia with that vintage mailbox look (plus high-security features that help keep your mail safe), check out the Victorian locking pedestal mailbox by Amco, which has a classic Pony Express motif.
Column Mounted Mailboxes
Qualarc, Gaines, and Streetscape all offer fully fortified, recessed, column mount mailboxes with high-security features including Anti-Pry keyed access. They are also large enough to accept magazines and small parcels.
Wall Mount Mailboxes
Locking wall mailboxes are designed for door-to-door walk-up mail delivery and are usually mounted to a wall with easy access from the front door. They are your first line of defense against mail theft and can usually handle larger mail items such as magazines and small packages.
The Mailboxworks carries a variety of different styles including classic, Victorian, stainless steel, and modern in contemporary bright colors.
Secure Modern Styles
If you have a more contemporary-looking home, take a look at our collection of modern brass, copper, and stainless steel mailboxes by Knobloch, Hentzi, Ecco, Blomus, and Architectural Mailboxes.
High-Security Mailboxes
For homeowners that operate a home-based business or receive a lot of mail and small parcels, we also offer a collection of high-security mailboxes and drop boxes by Mail Boss and Ecco Products.
Secure Classic Mailboxes
If you prefer a more classic-looking mailbox or a Victorian mailbox with a lock, check out our collection of Whitehall, Amco, and Gaines locking wall mount mailboxes.
Contact The MailboxWorks
The Mailboxworks carries a huge selection of locking mailboxes. Please call us Toll-Free at 1-866-717-4943 if you need any assistance. You can also try our online chat feature. Our experienced staff will be glad to assist you.