An Inside Look at CBU Cluster Box Mailbox Units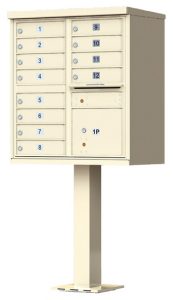 If you've never seen the inside of cluster box mailboxes, this article will serve as an excellent primer. Let's explore how these ingenious commercial CBU mailboxes function.
Cluster Box Units (CBU Mailboxes)
At the turn of the 21st century, the United States Postal Service (USPS) authorized the use of tenant mailboxes. This solution would allow postal carriers to quickly deliver mail to several mailboxes in one stop. At the same time, this neighborhood cluster box mailbox solution would ensure that each tenant's privacy and security would not be compromised.
The exterior of the cluster box units, also known as CBU Mailboxes, features:
Eight, twelve, thirteen, or sixteen tenant compartments
An outgoing cluster box mail slot
And at least one parcel locker compartment for packages that do not fit in the tenant's mailbox.
All of this is readily identifiable and easy to comprehend.  But how does the cluster box mailboxes function? How do they secure tenant privacy and decrease mail carrier delivery time?
To discover the way CBU mailboxes function, consider the daily routine of its two primary users:
The postal carrier
The Tenant
CBU Mailboxes and Postal Carriers – The postal carrier approaches a cluster box mailboxes with a special master key. One turn of the key into the CBU mailbox's high security lock and the front panel of the entire unit opens to allow the postal carrier access to all the tenant mailbox units. The postal carrier then places the mail into each tenant's mail slot.
If a tenant receives a package that is too large for their mailbox, the postal carrier places the package into the special parcel locker compartment. A special key for that parcel locker is also placed in the tenant's mailbox.  Then the postal carrier closes the front panel door and securely locks the cluster box mailboxes.
CBU Mailboxes and Tenants – When a tenant walks up to retrieve their mail, they simply utilize their tenant mailbox key to open their particular mailbox unit. Once they retrieve their mail they lock their mail slot for the next mail delivery.  If the tenant notices that the mail carrier has left a key in their mailbox unit, the tenant will use that special key to open the parcel locker and retrieve whatever package has been delivered to them.
The tenant does not need to consider returning or removing the key from the parcel locker. Once the parcel locker has been opened, the special key remains "stuck" in the parcel door lock for the postal carrier to remove the next time they deliver the mail. While any tenant can utilize the parcel locker key to retrieve their package(s), only the postal carrier has the ability to remove the parcel locker key from the parcel door lock. Read more about it in our blog article on how Adding Parcel Lockers Improves Tenant Retention.
CBU Mailbox Parts
Visit this Florence Manufacturing page to view CBU mailbox parts.

CBU Mailboxes Finish – Cluster box mailboxes are available in three different finishes:  black, postal grey, and the standard sandstone, which ships in as little as 2 to 3 days.

CBU Mailbox Keys – Three keys come standard for each cluster box unit door, allowing the property manager to retain a master key for future duplication while allowing each tenant to have two keys for their mailbox lock.

CBU Mailbox Numbering – Tenant cluster box unit doors can be identified with standard silver placards or engraved numerals. Instead of decals, door numbers can also be custom engraved.  To ensure tenant security, The MailboxWorks (the nation's leading supplier of CBU mailboxes) strongly suggests that tenant mail slots do not correspond to tenant office or apartment numbers.  This precaution helps keep thieves from identifying which tenant may or may not be in that unit.

CBU Mailbox Security – Extra high security options are also available for cluster box mailboxes. High security options offer the most advanced security features such as a heavy-duty mailbox pedestal to secure the cluster box unit mailboxes to the ground, plus thicker aluminum wrapping and reinforced cabinets to combat mail theft.

Learn more about why cluster box units are the Most Popular Solution for Centralized Delivery Projects and Favored Solution for Multi-Tenant Delivery.

For property managers seeking three or more cluster box mailboxes, The MailboxWorks offers quantity discounts on multiple CBU mailbox sales.

Please contact The MailboxWorks by phone at 1-866-717-4943 or by email to learn more about current pricing on Florence CBU Mailboxes.

Tags: Auth Florence, CBU Mailbox, CBU Mailboxes, Cluster Box Units, Cluster Mailboxes, commercial, Commercial Mailboxes


Categorised in: Cluster (CBU) Mailboxes and Accessories, Commercial Mailboxes