Why Mailbox Cluster Box Units are the Most Popular Solution for Centralized Mail Delivery Projects
Mailbox cluster box units (CBU mailboxes) are the most frequently utilized, freestanding centralized mail delivery systems in the marketplace today.
Most often installed in new outdoor construction projects Cluster Mailbox Units provide safe, secure access to mail and package delivery every hour of every day throughout the year.
Availability
USPS cluster mailboxes can be procured as 8 door cluster box units or with 12 tenant boxes per unit, 13 tenant boxes per unit or 16 tenant boxes per unit. And each of the aluminum cluster box units provides single key access to the postal carrier for efficient and secure mail delivery as well as individual key access to each tenant's mailbox.
Includes Package Delivery Box
A separate package delivery box is available on the cluster box units that allow tenants to receive small packages that would not otherwise fit inside the tenant mailbox.
The postal carrier simply places the package in the package delivery box, removes the special delivery box key, and places that key inside the tenant mailbox. When the tenant utilizes the package delivery box key to retrieve their package, the key remains securely in the keyhole for the postal carrier to retrieve for the next package delivery.
Preconfigured Cluster Box Units
Builders who need cluster mailbox units delivered quickly will be pleased to know that standard color cluster box units are pre-configured and do not require long customization delays, which allow them to be shipped quickly.
Additionally, the single pedestal mount for cluster box units make their installation both simple and straightforward (although it is advisable to contact the local postmaster to seek approval on the installation location).
Cluster Box Unit Construction
Built to last, cluster box mailboxes are constructed of 300 series stainless steel and aircraft aluminum. The components are then powder coated with a weather-resistant finish that also resists vandalism and everyday scratches.
All cluster box mailbox cabinets and hood seams are expertly welded. The front unit door (in which the postal carrier opens with a special key to load the daily mail) is cleverly designed with interlocking seams that overlap to prevent mail thieves from prying the door open.
Installing secure CBU mailboxes can even help to Increase Real Estate Values.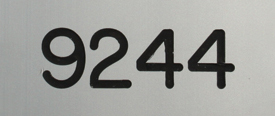 Silver metal placards with black numbers 1-16 are placed on each tenant mailbox door and 1P and 2P are placed on the package doors to complete the standard cluster box unit configuration. At a nominal cost, optional engraved mailbox door tenant identifications are also available with or without black or white filling.
For developers who want to match the color scheme of a building project, the available colors that the mailbox cluster box units may be ordered in include:
Sandstone finish (quick-ship standard)
Postal gray
Black
Bronze
Cluster Box Unit Accessories
Additionally, builders can dress up the cluster box mailboxes with one or two lines of low cost, high impact mailbox accessories that increase the architectural statements these units make upon one's project.

These architecturally pleasing CBU mailbox accessories provide a full cuff for the pedestal post that the cluster box units are mounted upon, a full architectural cover for the post itself, and a finishing cap or roof for the cluster box units too.

And regardless of the requirements, mailbox cluster box units are most likely to fit the needs of the project.

Read more about why CBU Mailboxes are the Favored Solution for Multi-Tenant Mail Delivery or call The MailboxWorks at 1-866-717-4943 to inquire about your project.

Tags: Cluster Box Unit (CBU) Mailboxes


Categorized in: Commercial Mailboxes