Increasing Real Estate Values through the Use of Secure CBU Mailboxes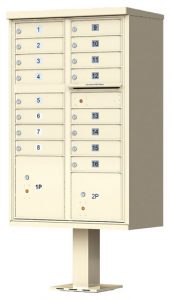 Tenants, both commercial and residential, are security conscious. And real estate developers and apartment managers looking to increase the sense of safety and security in their housing or business developments should consider upgrading or installing Cluster Box Units for mail delivery. For a small initial investment, these secure cluster box mailboxes bring a strong sense of safety that often impacts property values.
"Tenants who feel safe, stay. And staying is key. In a business climate like this recession, it's crucial to do all we can to reduce turnover," quips one developer with 732 units under management in Roseville, California. Many developers and apartment managers have discovered that significant gains in security and safety can be found through the installation of relatively inexpensive cluster box units – a kind of secure mailbox that is widely known for its resistance to theft and vandalism.
Cluster Box Units (or CBU's as the industry terms them) are commercial-rated secure mailboxes designed for businesses or housing developments with tenants. All CBU mailboxes are constructed of high quality, aircraft-grade aluminum and type 300 stainless steel (type 300 is often used in marine environments due to its long life and high oxidation resistance). CBU mailboxes are constructed to rigid standards that exceed United States Postal Service security standards for mail delivery. Plus each cluster box unit is designed to reduce vandalism and thwart mail theft.
Even the locks on the CBU mailboxes are designed to exceed USPS standards and prevent mail theft. Each individual cluster box mailbox unit (CBU mailboxes are available in 8, 12, 13, and 16 door configurations) comes with 3 keys as well as two parcel lockers for packages that do not fit into the individual tenant mailboxes.
When the postal carrier delivers a package, the carrier uses a special key issued to USPS mail carriers to open approved parcel lockers and then places the tenant's package into the parcel locker. Then the mail carrier places a key to that parcel locker into that tenant's individual mailbox so the tenant can access the parcel locker and retrieve their package. When the tenant uses the special key to retrieve their package, the key remains in the lock so that the mail carrier can utilize the key again without it being lost or misplaced by the tenant.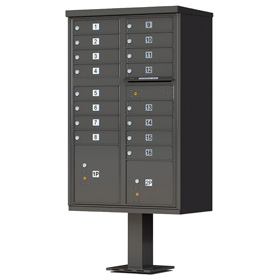 "The parcel lockers on these cluster box units are great," notes the Roseville developer, "we had a small problem with kids stealing packages off the doorsteps of our units and the CBU mailboxes eliminated that issue on day one."
All CBU tenant and parcel doors of these CBU mailboxes are constructed carefully with reinforced corners and heavy 360 degree wrap around hinges that significantly extend the long lifelines of each CBU mailbox. Additionally, each CBU mailbox exterior is powder-coated with a rugged exterior finish designed to resist scratching, erosion, and vandalism.
Many apartment managers, housing developers, as well as end-users are buoyed with confidence due to the security features and ease-of-use the secure CBU mailboxes offer.
For areas prone to vandalism or for developments that demand the absolute best in quality and security, additional security features are also available as an option during the order process. For purchasers who select the "High Security version" of the CBU mailbox, they'll discover three special features that bring an additional layer of preventative security to the CBU mailboxes. The three special features are:
Thicker, reinforced gate crossbars to prevent crowbar break-ins.
Special security collars on all compartment locks to add an additional layer of security for each tenant.
Thicker and heavier gauge aluminum utilized on the cabinet wrapper for an additional layer of prevention against vandalism and theft.
While all regular CBU mailboxes are designed to thwart most thieves and resist minor vandalism, these three additional features on the "high security CBU mailboxes" provide an extra high secure layer of prevention.

Additionally, decorative kits for CBU mailboxes are also available that dress up each unit. For developers or apartment managers that are looking to match upscale exteriors, these decorative CBU kits provide an extraordinary curb appeal to residential and commercial developments.

Tags: Cluster Box Unit (CBU) Mailboxes


Categorised in: Commercial Mailboxes