Combat Mail Theft with Extra High Security Cluster Mailboxes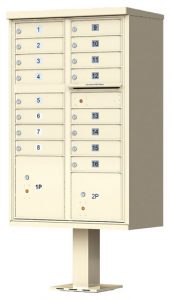 High security cluster mailboxes are a welcome solution in this challenging economy, where mail theft and subsequent identity theft is steadily on the rise.
Nearly 10 million Americans have been victimized by mail theft in the past twelve months as easy access mail is the number one avenue pursued by identity thieves. The personal havoc wreaked upon those who've been afflicted by mail theft can take years to undo. By installing USPS approved, extra high security Cluster Mailboxes however, builders and developers can help prevent mail theft from their planned developments.
Extra high security cluster box units are commercial mailboxes that provide tenants with the ultimate in mailbox security. And secure cluster mailboxes for tenants translates into fewer, if any, mail theft incidents, which ultimately means higher retention rates for one's development.
7 Extra High Security Features of Cluster Mailboxes
While regular cluster box units have many inherent security features, extra high security cluster mailboxes are designed specifically to thwart vandalism, mail theft and identity theft. The difference is all found in the design and construction of these extra high security mailboxes.
Consider these seven enhanced security features found exclusively on the extra high security cluster mailboxes:
Thicker Heavier Gauge Aluminum Cabinets
Larger Diameter Tamper Resistant Bolts (full ¼ inch)
Thicker Reinforced Gate Crossbars
Special Protective Collars
Reinforced Shelves Above & Below Postal Carrier Access Door
Upgraded Stainless Steel Hinges
Heavy Duty Stainless Steel Pedestal & Mounting Hardware
Heavier Gauge Aluminum Cabinets
First, while both the regular cluster box units and the extra high security cluster mailboxes are constructed with robotically welded cabinets and hood seams, the extra high security cluster mailboxes reduce break-in damage by utilizing thicker, heavier gauge aluminum cabinets in place of the heavy duty extruded aluminum used in constructing regular cluster box units.
Larger Diameter Bolts
Second, while regular cluster box units are well built, extra high security cluster mailboxes go the extra mile with the addition of a larger diameter (a full ¼") bolt. These thicker, tamper-resistant bolts, combined with the interlocking overlap seams on the master front loading door, foil the plans of thieves who are intent on prying a mailbox door open.
Thicker Reinforced Gate Crossbars
Third, extra high security cluster mailboxes feature thicker, reinforced gate crossbars providing an interior infrastructure that further impedes vandalism and theft.
Special Protective Collars
Fourth, extra high security cluster mailboxes utilize a special protective collar on each individual tenant mail compartment lock, which hinders the efforts of thieves and vandals who desire to break into specific mail compartments.
Reinforced Shelves
Fifth, all extra high security cluster mailboxes are designed with a reinforced shelf above and below the postal carrier's access door as yet another method of frustrating any potential break-ins to the interior mailboxes.
Stainless Steel Hinges
Sixth, the actual door hinges on the parcel doors of the extra high security cluster mailboxes are upgraded to a virtually indestructible stainless steel hinge.
Heavy Duty Stainless Steel Pedestal & Mounting Hardware
Seventh, each of the extra high security cluster mailboxes utilize a heavy duty stainless steel pedestal with highly secure mounting hardware to ensure that mail thieves don't simply try to remove the entire cluster unit from its mount.

While most buyers will be satisfied by the high quality construction and components of regular cluster mail box units, those requiring an extra measure of mail security for their developments will be very pleased with the extra high security cluster mailboxes and their myriad design features focused on preventing mail theft and vandalism.

Also read our articles about the Security and Convenience of CBU Mailboxes and how Cluster Box Unit Mailboxes Prevent Mail Theft.

For more information about high security Cluster Box Units available at The MailboxWorks, please call us a 1-866-717-4943 or contact us online.

Tags: Cluster Box Unit (CBU) Mailboxes


Categorized in: Locking Mailboxes