Cost Effective Cluster Box Unit Mailboxes: Local Government Solution to Prevent Mail Theft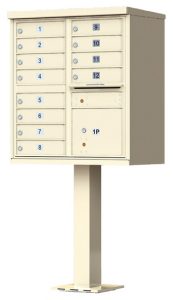 On the east coast, former Scranton, New Jersey Police Officer John Yurkovic experienced mail theft and was astonished when he learned that $50,000 worth of gold coins had been swindled with his stolen identity. On the west coast, in the tiny logging town of Magalia, local firemen were alarmed when checks were stolen from their fire station mailbox by a pair of unemployed transients.
Whether west coast or east coast, police or fire, large city or small town; the still-lagging economy has driven mailbox theft to new heights.
High Security Cluster Box Units
Law enforcement officials are recommending that organizations (and even their own stations) begin budgeting to purchase high security mailboxes called cluster box units (also called CBU Mailboxes). These U.S. Postal Service (USPS) approved pedestal cluster box units by Florence Manufacturing are often purchased for apartment and condominium centralized mail delivery. Florence cluster box units also make financial sense when budget funds are tight.
"Many times fire stations, police stations and county courts are located in the same vicinity, which makes them perfect candidates for the cluster mailboxes. One cluster box unit can be purchased through the local government budget to serve anywhere from eight to thirteen different agencies or offices," notes a national consultant working with local governments that are trying to cut costs in the new economy. He also cites that "Budgeting to purchase a dozen or so locking mailboxes – one for each governmental agency – is a much more costly endeavor than purchasing one or two cluster box units. Plus it's much less expensive to install one or two cluster box units over a few dozen locking mailboxes."
Best of all, the security features of cluster box units often outperform those of singular locking mailboxes. And security features are crucial. "Identity theft is a real hassle. I'm still having problems with my credit," quipped former Officer Yurkovic, 59, of Scranton, N.J.
Paradise police report that the fire station where the mail theft occurred was just one of many rural locations that was victimized by the same indigent mail thieves. "It's a huge problem. This male-female pair of thieves moved from hotel to hotel from Reno to Fort Bragg, stealing mail, cashing checks found in the mail, developing credit information on the victims and using that information to obtain goods, services and hotel accommodations," said the Butte County Sheriff's Office. And the sheriff's office still does not have a total victim count.
Assistant U.S. Attorney Robert O'Hara characterized much of the mail theft as "stupidity driven by financial desperation." Other experts compare mail theft to putting a candy dish in the center of a room of middle school boys – it's simply tempting many people beyond their capacity to abstain. "This economy has tempted many to go far beyond what they'd have ever considered," notes a local minister in the Chico area where the fire station mail theft occurred.
For organizations that want to avoid tempting both citizens (like the banker in New Jersey) and indigents (like the fire station thieves in Northern California), cluster box units are the recommended solutions according to The MailboxWorks, a leading distributor of Commercial Mailboxes.
What Are Cluster Box Mailboxes?
So, what are cluster box units? Simply put; cluster box units are high quality, outdoor pedestal commercial mailboxes; a centralized mail delivery system with eight to thirteen tenant mail boxes per unit. The postal carrier uses a special key to open the entire cluster box unit (rather than each tenant mailbox door) to quickly deliver the mail. The cluster box units are made with heavy duty, aircraft-grade aluminum and hinged with stainless steel hinges. Pedestal cluster box units come with three keys per tenant mailbox door as well as a protected outgoing mail receptacle and a parcel locker.

"The mail receptacle is a real time saver for local public servants wanting to avoid a trip to the post office. They simply make one trip to their cluster box unit and drop off their mail for delivery at the same time that they collect the incoming mail that's been delivered," offers one of the expert customer service representatives at The MailboxWorks, "and the parcel locker is also a real help. The postal carrier simply delivers the package to the parcel locker, places the parcel locker key into the tenant's mail box in the cluster box unit, and the tenant uses the key to retrieve the parcel. Once the package has been retrieved, the key remains in the lock for the postal carrier to utilize the next day. It's a very convenient solution."

For government buildings in high crime areas or for agencies looking for an even higher degree of mail security, CBU cluster box units are also available in an extra high security option, designed by the U.S. Postal Service. The heavy duty USPS cluster box units are constructed with additional aluminum reinforcements to provide stronger cabinet tops and bottoms and are provided with heavyweight stainless steel pedestals and thick doors to protect tenant units from mail theft.

"Buying cluster box units is bottom line thinking and makes sense to the citizenry," notes the national consultant working with local governments adding, "People detest government waste and this is a solution that both works and is quite cost effective."

You might also like our blog article entitled, "An Inside Look at CBU Cluster Box Mailbox Units."

Tags: Cluster Box Unit (CBU) Mailboxes


Categorised in: Locking Mailboxes