Front loading Florence CBU Mailboxes (cluster mailbox units mounted on a pedestal) are utilized in many residential and commercial complexes. Pedestal cluster mailboxes are ideal as community mailboxes for outdoor centralized mail distribution that includes both mail and parcel delivery.
Outdoor CBU mailboxes can either be serviced privately or by USPS postal services but must meet or exceed the latest USPS standards.
Auth Florence CBU cluster mailboxes are officially licensed for use by USPS. The F series has been chosen by USPS as the official design standard for all cluster box mailbox units.
Horizontal CBU mailboxes have been utilized in many residential and commercial multi-unit complexes. Commercial properties that install horizontal CBU mailboxes include universities, colleges, business and industrial parks, plus government and military complexes.
Top Security Features In All CBU Mailboxes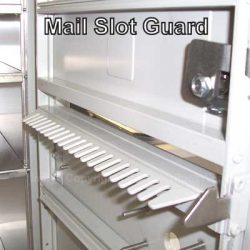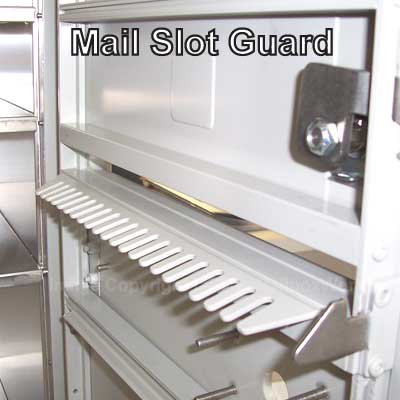 Florence Manufacturing now offers the same high-security features across all models of cluster mailbox units.
The "high security" features include a vandal proof design that is highly resistant to break-in damage and mail theft. For instance, the reinforced CBU mailbox door gate is constructed with thicker steel crossbars.
Also, the CBU mailbox cabinet features heavier gauge, aircraft grade aluminum construction, and the mailbox compartment locks are constructed with a unique security collar for added protection.
You also have the option to obtain a private master lock if your project will be using private mail delivery services and have cluster box units that won't be serviced by USPS.
CBU Cluster Mailbox Door Configurations
The doors on all Auth Florence CBU cluster mailboxes are built with full 360-degree, wrap around hinges and the master loading doors are highly resistant to prying because of the interlocking overlap seams.
Door numbering options provided by The MailboxWorks include number decals, engraving and black fill engraving.
Auth Florence Manufacturing also manufactures USPS approved cluster mailbox units in a number of different door configurations including:
• 8 door CBU Cluster Mailboxes
• 12 door CBU Cluster Mailboxes
• 13 door CBU Cluster Mailboxes
• 16 door CBU Cluster Mailboxes
Also each CBU cluster box mailbox system includes the following:
• Individually numbered tenant mailbox doors
• Parcel locker for package delivery
• Master door prepared for USPS postal lock installation
• Mail slot for outgoing mail collection (includes an interior mail slot guard)
CBU Cluster Mailbox Options & Accessories
All our Auth Florence CBU cluster mailboxes include weather-resistant, powder coat finishing in a variety of colors such as forest green, postal grey, dark bronze, black, white, and sandstone, to name a few.
To dress up your CBU cluster box mailboxes, The MailboxWorks also carries Architectural decorative options and Vogue CBU die-cast aluminum decorative mailbox accessories such as CBU roof caps with ball finials, decorative post bases, and pillar pedestal covers with crown molding.
Ask Us About Florence CBU Cluster Mailboxes
Buy your residential and commercial Mailboxes online at The MailboxWorks, or for more information about any of our Florence CBU Cluster Box Mailbox products, please Contact Us online.
Or, call our mailbox experts toll free at (866) 717-4943.