Florence CBU Cluster Mailbox – Vogue Classic Kit, 4 Tenant Doors, 2 Parcel Lockers
SKU # 1570-4T5V
Free Shipping
In Stock
According to manufacturer:
Usually ships in about 2-3 business days (Standard Numbering); 2-4 weeks (Custom Numbering)

Shipping estimate information
Order Placed
Processing Time
Order Shipped
Transit Time
Delivery
Learn more about our estimated shipping and lead times
The lead times listed on this product page represent the best-case scenario for shipping estimates. While we may show that a product "usually ships" within a given period, this period should not be confused with a delivery estimate. Rather, we expect the product to ship from the manufacturer's warehouse within this time-frame.
What does this mean for you? Once you place an order on our site, we begin processing the order with the manufacturer. The processing lead time we list on the product page is the most current estimate from the manufacturer regarding the product.
Note
If you purchase a commercial mailbox from us and decide to cancel because a competitor lists a "faster" lead time on their site, you may be delaying the time it will take to receive your mailboxes.
Why? Because you are placing a new order to be sent to the same manufacturer for processing.
FAQs
How long will it take to receive my commercial mailbox?
When you order a commercial or cluster mailbox, we process the order with the manufacturer within 1 business day. Once processed, the order usually ships in the time-frame listed on the product page. Since Cluster Mailboxes are large items, they ship via freight carriers. This means that the transit times for these will usually be 5 to 7 business days.
A few things to note about purchasing a cluster mailbox or similar large, commercial-grade product:
The freight carrier will call the number you list on the shipping address a day before delivery to schedule a delivery appointment with you.
The manufacturer ships using their chosen freight carrier depending on the products ordered and the delivery location.
The majority of online retailers who sell commercial mailboxes (CBUs, etc.) ship directly from the manufacturers, just as we do.
If you choose professional mailbox installation with your commercial mailbox purchase, please note that same-day installation is not available. Installation will be scheduled after the delivery of your mailbox. In most cases, installation is completed within one week following delivery.
What if I order multiple products from different brands?
If you ordered multiple products, it is possible that they are made by different manufacturers. If this is the case, your products will ship to you separately from each manufacturer.
For example, if you purchase a Mayne Post with a Whitehall Mailbox, your post will ship from Mayne's warehouse in about 3 business days, but your mailbox will ship separately from Whitehall in about 2 to 3 weeks if customized with address numbers.
How can I estimate my shipment's transit time?
Depending on the carrier and your location, transit times will vary. Delivery estimates are best projected using your carrier tracking number. Once your order ships, we'll send you a shipping confirmation email that includes your carrier (FedEx, UPS, YRC, etc.) and tracking number.
Note
If you place an order with us and do not receive an Order Confirmation email, check your spam inbox. If you still do not see an Order Confirmation email in your inbox, contact us right away at (866) 717-4943 . We will provide you with your Order Number and any other details you need.
Note
The Postal Grey finish is for replacement use only (replacement of existing Postal Grey units).
Volume Discount Pricing
| Quantity | Price |
| --- | --- |
| 2-5 | $2514.00 |
| 6+ | $2343.67 |
Finishes and Accents
Black
1570-4T5VBK
Dark Bronze
1570-4T5VDB
Postal Grey (for replacement only)
1570-4T5VPG
Sandstone
1570-4T5VSD
Swipe left or right.
Product Options
Back
Auth Florence Mailboxes Silver Decals
Auth Florence Mailboxes Engraving
Auth Florence Mailboxes Black Fill Engraving
Auth Florence Mailboxes White Fill Engraving
Product Details
Vogue Classic Mailbox Accessories Kit
Order Auth Florence 4-door classic cluster mailbox accessories for replacement CBU mailbox purposes or for new build neighborhoods and set your centralized mail delivery center apart from the rest.
The clean lines on the crown molding roof cap, reinforced column cover, and mailbox pedestal base put the finishing touches on the world's most secure and trusted Commercial Mailboxes by Auth Florence.
Easy snap-together mailbox roof and pedestal technology using minimal hardware make installation easy while maintaining the integrity of the original USPS-approved CBU mailbox unit.
Secure Roof Cap to the top of the cluster mailbox and attach Post Column to the standard pedestal that comes with the cluster box unit. Post Base wraps around the existing post to finish off the look.
As the most secure free-standing CBU mailboxes on the market, these 4 door classic cluster mailbox accessories offer a stylish centralized mail delivery center that can be installed individually throughout a neighborhood or grouped in one location.
The outgoing mailbox slot is prepared for USPS Arrow Lock and features a weather protection hood and anti-fishing aluminum comb.
All CBU Mailboxes by Florence Manufacturing are constructed from heavy-duty extruded aluminum, 360-degree wrap-around stainless steel hinges plus interlocking and overlapping seams.
Includes 4 tenant compartments and 1 outgoing mail slot. Each tenant compartment is secured by a 5-pin cylinder cam lock equipped with a set of 3 keys. Each parcel locker is secured by USPS-approved locks.
Door numbering options include standard silver placards as shown, plus custom silver placards or engraving. Pricing for each option can be previewed to the right under "Tenant Door Identification".
Custom Silver Decals can have up to 6 7/8″ characters; USPS recommends up to 3 characters. Custom engraving can have up to 12 3/4″ characters and has black or white color fill options.
For more information or for assistance purchasing 4-door classic cluster mailbox accessories, please call us or chat with a customer care rep if you have any questions.
Dimensions
| Item | Height (inches) | Width (inches) | Depth (inches) |
| --- | --- | --- | --- |
| Overall | 65.125" | 33.875" | 21.375" |
| Standard Compartments | 6.5" | 12" | 15" |
| Outgoing Mail Compartment | 3.25" | 12.875" | 16.75" |
| Small Parcel Compartment | 10.25" | 12.875" | 16.75" |
| Large Parcel Compartment | 13.75" | 12.875" | 16.75" |
Details
Mailbox Item Number:

AFECBU4

Roof Cap Item Number:

AFECBUCAP

Post Column Item Number:

AFECBUPLRSM

Includes:

Mailbox, Pedestal, Vogue Classic Accessories, 3 Keys per Door

Manufacturer:

Auth Florence Manufacturing

Shipping Weight:

183 lbs.

Locking:

Locking mailbox.

Parts:

We sell replacement parts for this product.
Additional Product Options
We Offer Mailbox Installation Nationwide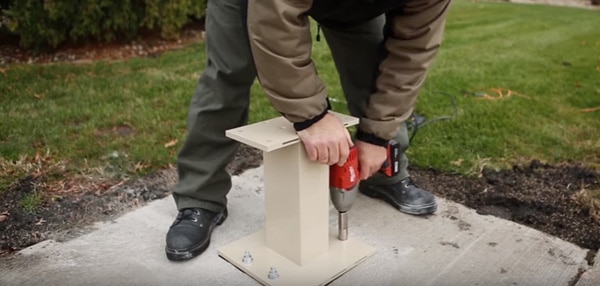 When selecting the options for your CBU mailbox you will see we offer "Professional Mailbox Installation". Two choices for installation are offered to make your experience complete for all your CBU mailbox needs.
Option 1 – Technician installs new pedestal-mounted mailbox.

In this scenario, the installer drills new anchor bolts into existing concrete and mounts a new pedestal mailbox.

Option 2 – Technician installs new pedestal-mounted mailbox and disposes of an old pedestal-mounted mailbox.

In this scenario, the installer removes old anchor bolts and replaces them with new ones. They will install the pedestal-mounted mailbox and dispose of the old one.
FAQs for the Mailbox Installation:
What is included with the mailbox installation?
Unboxing of your brand new CBU mailbox that was ordered from The MailboxWorks
Installing the pedestal onto the existing concrete pad covered by one of the options above*.
Securely mounting the CBU mailbox on top of the pedestal.
Do you offer installation in my area?
YES, unless you are outside the continental US. We provide installation services for The MailboxWorks customers in the 48 states of the continental US.
Are your mailbox installers insured and licensed?
YES, our professionals are insured and licensed.
Can my existing cluster mailbox be taken away?
When you are replacing an existing CBU mailbox (pedestal cluster mailboxes) we can arrange to have the installer remove the old CBUs from the job site. We do need to be notified in advance of the installation. There is a charge of $100.00 in addition to the installation service for removal of the existing CBU cluster mailboxes.
Can the installer apply number decals that were ordered loose?
NO, unfortunately you would need to apply any number decals that were ordered loose and not already applied to the cluster mailbox. This is a rare occurrence because number decals are standardly applied to Florence CBU cluster mailboxes. An alternate brand, if ordered, can have decals come loose or if the customer specifies loose decals at the time of ordering.
How do I know if Option A, Installer uses existing anchor bolts to mount pedestal, will work for my cluster mailbox installation?
Measure the distance from left to right using the center of one bolt to the center of the other bolt and verify it measures 10". Then measure the distance from front to back using the center of one bolt to the center of the other bolt and verify it measures 4". (see pictures)  If those measurements agree and the bolts are in good condition then Option A should work for you.

Will the installer provide anchor bolts for my cluster mailbox?
NO, you would need to make the anchor bolts available.  If the cluster mailbox is being installed on existing anchor bolts you are all set. Otherwise make it easy and purchase the anchor bolts with your CBU mailbox. If other supplies to secure your cluster mailbox are needed, the installer may be able to provide these at an additional charge.
Does The MailboxWorks coordinate the installation with the installer?
YES.  Before the appointment we coordinate with the installer. We will contact you to coordinate an installation schedule.  Also, the schedule will be confirmed again just prior to the installation along with any pertinent details. The customer would be responsible for meeting with the installer at the scheduled installation appointment. After your install is complete you will receive all the keys for the tenant mailboxes from the installer so that you can hand them out to residents.
Why should I order professional installation service from The MailboxWorks?
A mailbox specialist from The MailboxWorks helps you from the moment you place your order until the installation is complete. We will communicate with your local post office and the professional installers and ensure everything is coordinated.
Installing a CBU mailbox can be a complex process. From knowing how to securely mount the cluster box unit to having the USPS come out and install their locks, the steps can be involved. Our professional installers and The MailboxWorks specialists make the process a snap.
*The customer is responsible for ensuring that the location for the installed CBUs meet the USPS requirements.  Customers should contact their local Postmaster and review the location and any requirements before the installation of the cluster mailboxes at your location.
CBU Mailbox Installation Hardware
Whether you are installing your new CBU mailboxes yourself or having our professional installers do it, we offer two types of anchor bolts as well as optional vandal proof nuts for your cluster mailboxes.
L-Bolt Anchors
L-Bolt Anchors are used when new concrete pads are being poured for your cluster mailboxes. The L shaped anchor bolt is inserted into the wet concrete so that as the concrete sets the bolts are secured in place. If new concrete is being poured, the L-bolt is the best possible CBU mailbox anchoring option. This option comes with 4 stainless steel L-bolt anchors that are 7 inches by 2 inches, 4 washers, and 4 matching hex nuts.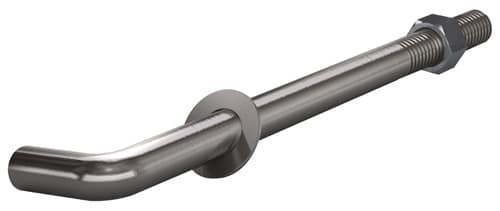 Wedge Stud Anchors
Wedge Stud Anchors are used when there is an existing concrete pad that is in good condition and meets postal approval for cluster mailboxes. A hole is drilled into the concrete and the anchor bolt is inserted. Then as the nut is tightened and the anchor is pulled up, the base expands for secure holding of your CBU mailbox. This option comes with 4 stainless steel wedge stud anchors that are ½ inch wide and 5 ½ inches long, 4 washers, and 4 matching hex nuts.

Tamper-Resistant Nuts
Upgrade your installation hardware by including two optional tamper-resistant nuts to prevent your CBU cluster mailbox from being stolen. The nut is easily installed using a standard socket or wrench. The hex head breaks away upon tightening and leaves a non-removable cone. Tamper-resistant nuts install easily but are hard to remove. The set of 2 stainless steel tamper-resistant nuts should be installed kitty corner from each other in order to deter theft.

This is an example of use of the tamper-resistant nuts used in another application.
You may also like…
Related Products
---
Customers who trusted us with their projects: