2017's Top 3 Traditional Locking Wall Mount Mailboxes
While some stainless steel and modern designed locking wall mount mailboxes may be trending, the majority of homeowners still prefer a more traditional style mailbox that compliments and blends in with their home's older architectural style.
The mailbox experts at The MailboxWorks have chosen their top three choices for traditional style, locking wall mount mailboxes for 2017. If you are a homeowner looking for a locking wall mount mailbox with that old fashioned look, you might want to consider one of the following:
Ecco 6 Victorian Wall Mount Mailbox
Gaines Eagle Wall Mount Mailbox
Whitehall Locking Wall Mounted Mailbox
Ecco 6 Victorian Wall Mount Mailbox
The Fuoriserie Ecco 6 Victorian style wall mount mailbox is among the finest in environmentally conscious mailbox designs combined with old world charm. Expertly designed and crafted from recycled die cast aluminum, these locking wall mount mailboxes are not only a wise choice for the planet but also an attractive, long-lasting mailbox for your residence.
Because of the aluminum construction of Ecco 6 mailboxes, they are 100% resistant to rust and are designed to look great even after providing years of service.
Other bulkier residential mailboxes can often protrude out from the wall of the home. The Ecco 6 wall mount mailbox however, has a slim, more aesthetic design but its generous dimensions (12 ¼" by 17 ½") will still allow homeowners to receive regular deliveries of larger envelopes or magazines and periodicals.
The Ecco 6 locking mailbox also has a sturdy lock mechanism that is crafted from a rust-resistant brass alloy. Two keys are provided with the Ecco 6 purchase. (A local locksmith can easily make any additional keys required.)
Available in black, bronze, and rust brown powder coated finishes, these Ecco 6 Victorian locking wall mount mailboxes are sure to please today's most discerning homeowners.
Gaines Eagle Wall Mount Mailbox
Traditionally designed to adorn the residences of American patriots, the Gaines Eagle locking wall mount mailbox is offered in as many as twelve stunning color combinations. You can choose black, bronze, or white, with options for different colored faceplate accents.
Crafted of rust-free cast aluminum and powder coated for long-lasting durability, the Gaines Eagle wall mount mailbox has an established look, making it a perfect choice for not only patriots, but also veterans.
The mailbox lock comes with two keys and the top mailbox access door is designed to stay open when needed. The mailbox door is also padded so it can close quietly.
There's also a collection of Gaines address plaques available designed to compliment the Gaines Eagle locking wall mount mailbox.
Whitehall Wall Mount Locking Mailbox
The name Whitehall is recognized as a leader in residential mailbox manufacturing. The large Whitehall locking wall mount mailbox provides superior mail capacity and excellent durability against the elements and daily use.
This locking wall mount mailbox features an all-new Alumi-Shield protective coating, which is available in three colors, black, bronze, and white. This Alumi-Shield protective coating ensures that the Whitehall mailbox finish will always look new.
An attractive address plaque can also be customized with your house address numbers and displayed on the face of this Whitehall locking mailbox. The address plaque will accommodate up to 5 three-inch house numbers on one line in a size that is easily readable from the street. As well, up to 11 characters and numbers can be displayed on two lines including your street number, street name, or your family name.
Need Help Choosing A Locking Wall Mount Mailbox?
If you have questions or need more information about our selection of traditional mailboxes or Victorian style mailboxes, please call our mailbox experts toll free at 1-800-824-9985 or contact The Mailboxworks online.

For anyone that lives in the Chicago area, The Mailboxworks invites you to visit our Naperville, Illinois showroom where you can view our selection of in stock Victorian style mailboxes and traditional mailboxes.

Tags: Locking Mailboxes, Residential Mailboxes, Wall Mount Mailboxes


Categorised in: Residential Mailboxes, Wall Mount Mailboxes
Related Products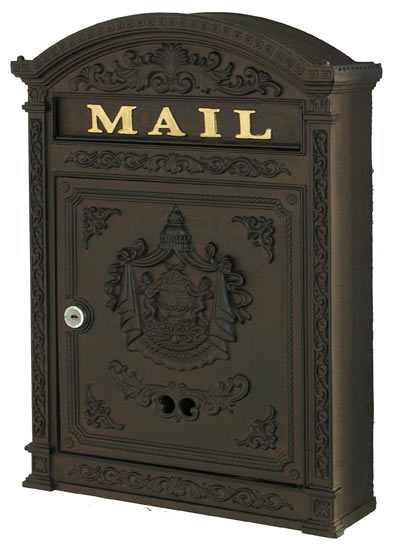 $

123.45
free shipping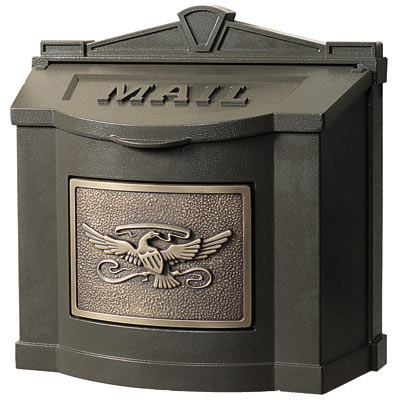 $

224.77
free shipping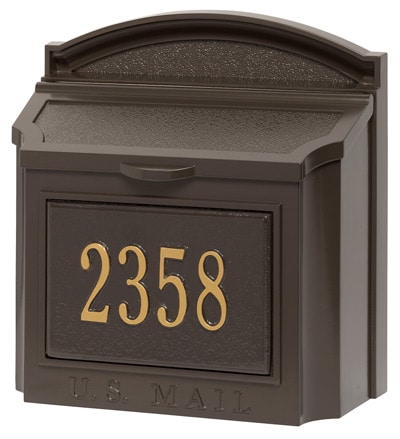 $

143.99
free shipping