The Stunning Vitality of Brass Mailboxes
Brass, the preferred metal of choice of the Roman Empire, still finds great favor among the discerning twenty-first century mailbox shopper. Residential Brass Mailboxes offer mailbox shoppers both durability and a distinguishing look to collect their US Postal Service mail. Whether one is looking for a luster, matte, or patina, brass mailboxes provide a wide palette of decorative mailbox options. And brass mailboxes are available for both wall mount mailbox installations and post mount mailbox installations. Additionally, both matching brass address plaques and brass house numbers are also available for brass mailboxes.
The MailboxWorks, the nation's leading retailer of both Residential Mailboxes and Commercial Mailboxes, carries a wide variety of brass mailboxes for both post mount mailbox applications and wall mount mailbox applications. For residential brass mailboxes, one will find the most popular choices with regard to post mount brass mailboxes are the Streetscape Westchester mailboxes, which are completely brass and the Gaines Keystone mailboxes with its signature brass doors.
Westchester Brass Mailboxes by Streetscape
The Westchester Streetscape Mailboxes are hand-constructed with a heavy gauge solid brass sheet and solid brass bar stock. Each of the Streetscape Westchester brass mailboxes is hand-finished by brass craftsmen to ensure an artistic, antique patina finish, which will gracefully dull and darken in varying shades of red, brown, pink, and yellow. This uncoated brass finish is maintenance free and provides an age-less natural look. All Streetscape Westchester brass mailboxes are approved for residential mailbox use by the US Postal Service. And matching brass house numbers can be selected and custom-welded to the brass mailbox to complete the look. And a wide variety of stylish mailbox posts are a great option to add.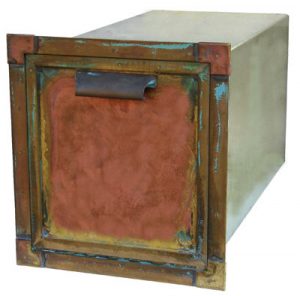 Other Streetscape Brass Mailboxes

Additionally, the most popular brass mailboxes for wall mount mailbox applications are the Streetscape Huntington Brass Mailboxes and the Streetscape Manhattan Brass Mailboxes (the Manhattan is the vertical brass mailbox version of the Huntington mailbox).

The Streetscape Huntington wall mount brass mailboxes and the Streetscape Manhattan brass mailboxes are, like the post mount Streetscape mailboxes, hand-finished by American craftsmen from solid brass sheets and professionally welded to create a seamless finish; the resulting natural brass finish patinas with age into varying shades of red, brown, and yellow with blue-green highlights. Both the Streetscape Huntington and the Streetscape Manhattan are also available with optional brass house numbers spot-welded directly to the brass mailbox. As with the Streetscape post mounted mailboxes, the Streetscape wall mount mailboxes are approved by the US Postal Service.

Gaines Keystone Brass Mailboxes

The Gaines Keystone residential mailboxes are available in four body color choices (white, almond, bronze, and black). Eye-catching brass finish mailbox doors can be added to any of the four body color choices to provide an instant distinguishing and decorative look. And the brass mailbox doors are available in three styles: a Fleur De Lis design, a Script design with the words "US Mail" or a standard US Mail plaque. A matching brass mailbox flag to signal the postal service that outgoing mail is in the mailbox is also available on these Keystone Mailboxes.

Ecco 4 Brass Mailboxes

Another popular mailbox is the stunningly modern Ecco 4 Wall Mount Brass Mailbox. These residential brass mailboxes are top-quality, long-lasting choices.

The Ecco 4 wall mount mailbox is available in a wide variety of finishes but the brass finish Ecco 4 wall mounted mailbox is among the most popular. The smooth curving lines of the Ecco 4 mailboxes have nine little "peep" holes punched into the front panel of the brass finish mailbox to aid the homeowner in determining whether or not the day's mail has arrived. These unique mailboxes are constructed with 18 gauge brass and plated with the homeowner' choice of finishes and then lacquered with a clear coat to ensure the finish at purchase remains for years and years.

Matching house numbers (the Ecco Address Numbers) are available and the Ecco 4 wall mount brass mailboxes are also US Postal Service approved.

Recessed Brass Mailboxes

Additionally, for homeowner's seeking recessed brass mailboxes, Streetscape offers two models; Gateway Brass Mailboxes and Courtyard Brass Mailboxes. Additionally, for a simple mail slot through the door, Streetscape also offers the Executive Brass Mail Slots.

Tags: Metallic Mailboxes, post mount mailboxes, Wall Mount Mailboxes


Categorised in: Design Inspiration & Gift Ideas