Relocating a Mailbox – Four Easy Steps for Moving Your Mailbox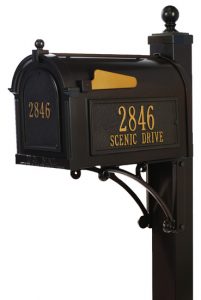 For many people, relocating a residential mailbox is sometimes necessary. We get a lot of customers asking, "Can I move my mailbox?" or "Where can I place my mailbox?"
If you are unhappy with the current location of your house mailbox do your homework first. You should take note of USPS rules on relocating a residential mailbox before you begin the move.
Can I move my Mailbox?
In some cases, your residential mailbox may be hard to access. Or, it may be located in a position that makes the mail vulnerable to theft or vandalism. Usually, you can relocate a residential mailbox without violating USPS mailbox guidelines if you follow four easy steps.
Contact your local postmaster first.
Consider the weather & mailbox exposure
Consider night lines to the house mailbox
Don't over-engineer your mailbox post
1. Contact your local postmaster first.
The USPS does not legislate the relocation of residential mailboxes nationally. Rather, they allow local postmasters to decide what is best for their geographic location and mail service. Make a quick trip or call to your local post office first. You can gain excellent advice from a postal expert on how and where you can move your mailbox. You might even get approval for your relocation. USPS mailbox location rules are strict. It can save you a lot of headaches if you take the time to call or visit the post office before moving your house mailbox.
2. Consider weather exposure when moving your house mailbox.
If you plan to move your house mailbox, consider how the location is affected by weather during different seasons. While relocating a residential mailbox to the front of your driveway or moving your mailbox to the other side of the road may seem convenient, that same location could possibly cause issues. For instance, will your mailbox be buried by snowplows or snowdrifts in winter?
Also, if possible, consider relocating your house mailbox somewhere that will be shaded by the sun. In direct sunlight, a mailbox may become a miniature oven, cooking your mail.
While you might easily see the damage heat does to some mail-order items, you may never realize the damage done to other items. For example, it would be easy to spot crayons or makeup damaged by heat. But you might not notice the potential damage done to mail-order pharmaceuticals.
In a July 2011 heatwave, some mail-order customers began to complain to their family doctors that their medicine no longer seemed to be effective. As the pharmaceutical companies investigated, they discovered the shipped medicines were placed in exposed mailboxes that exceeded the medicine's tolerance for heat. Thus, the medications were rendered ineffectual in just a few hours. Here's an article on How Temperature Can Affect Medication Stability.
Be conscious of how long your house mailbox will be exposed to direct sunlight.
3. Consider sight lines when relocating a residential mailbox.
When the weather is stormy, you might look out your window to see if the red mailbox flag has been moved to the down position. If you can see your mailbox from your home, then you might avoid an unnecessary trip to your curbside mailbox during inclement weather.
Before relocating a residential mailbox, check the sight lines from your home. Ensure that your house mailbox can be placed in a visible location so you can check the delivery status from the comfort of your window. Highly visible mailbox locations can also deter thieves and vandals.
4. Avoid over-engineering your mailbox post.
You might ask "Can I move my mailbox?" if you have been a victim of mailbox vandalism. Some people respond by over-engineering the replacement mailbox post for the new residential mailbox. This may also seem like an intuitive response for homeowners who have had their mailbox posts knocked over by a snowplow or vandals.
However, a mailbox post that will not bend can be a liability trap, which can backfire. For instance, imagine the liability you could incur if a neighbor lost control of their vehicle and hit your mailbox. According to the USPS, the mailbox post should snap at the base and give way to impact.
Conclusion
By considering these four steps before relocating your residential mailbox, you can ensure that the new location of your house mailbox is both legal and ideally placed for long-term service.
Installing a wall-mount mailbox? Be sure to read our article on residential wall mount mailbox installation and visit our installation gallery on Flickr. Also, check out our mailbox FAQ page.
Mailbox Installation Services
If you are not comfortable relocating a residential mailbox, please reach out to a licensed handyman in your area. While the MailboxWorks is a top online retailer of residential and community cluster mailboxes, you may get faster answers to your specific mailbox relocation questions by talking to a local installer. Thanks for visiting and thanks for reading!

 

Tags: Spotlight


Categorized in: DIY Mailbox Installation & Upgrades