Four Easy Steps for Moving Your Mailbox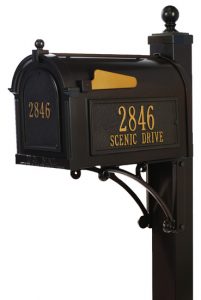 "Can I relocate my mailbox?" is a question that we sometimes get asked.
When a homeowner finds that the location of their residential mailbox is less than optimal they must be aware of USPS rules on moving a mailbox before they go ahead with the mailbox relocation.
In some cases the residential mailbox may be hard to access or may be located in a position that makes the mail vulnerable to theft or vandalism. In most cases, a residential mailbox can be moved without violating United States Postal Service (USPS) mailbox guidelines if you follow these four easy steps:
1. Contact Your Local Postmaster First
The USPS does not legislate the relocation of residential mailboxes nationally but rather, allows local leaders and postmasters to decide what is best for their geographic location and mail service. A quick trip or call to your local post office will yield not only approval or disapproval, but also excellent advice from a postal expert on the best location for your residential mailbox.
2. Weigh Mailbox Convenience Against the Elements
It's best to weigh convenient mailbox access for both you and your mail carrier against the impact of weather and the elements. While it may seem convenient to relocate your mailbox near the front of your driveway in the summer, that same mailbox location may be buried by snowplows or snowdrifts in winter.
Additionally, consider locating your residential mailbox in a location that is shaded from the sun as many mailboxes that are in direct sunlight become miniature ovens cooking the contents of your mail.
While it is easy to see the damage heat does to some mail order items, you may never realize the damage done to other items. For example, it would be easy to spot crayons or makeup items that were damaged by heat.  But one may never notice the potential damage done to mail order pharmaceuticals.
In the July 2011 heat wave that hit the state of Texas, many mail order customers began to complain to their family doctor that their medicine no longer seemed to be effective.  As the pharmaceutical companies investigated, they discovered the medicines that were shipped were placed in exposed mailboxes that exceeded the medicine's tolerance for heat and thus, the medications were rendered ineffectual in just a few hours in a 100 degree mailbox.
3. Consider Sightlines to Your Mailbox
When the weather is stormy, it is sure preferable to look out your window to see if the little red mailbox flag has been moved to the down position indicating that perhaps the mail carrier has picked up your outgoing mail and delivered your day's mail. Good sightlines may allow you to avoid making an unnecessary trip to your curbside mailbox during inclement weather.
Before relocating your residential mailbox, check the sightlines from your home and ensure your location allows the mailbox to be placed in a visible location so you can check the mail from the comfort of your window. Highly visible mailbox locations also deter thieves, vandals, and mail theft.
4. Avoid Over-Engineering Your Mailbox
Many homeowners who have been a victim of residential post mount mailbox vandalism (kids hitting the mailbox with baseball bats or even their vehicle) often respond by over-engineering their replacement post for the new residential mailbox. This may also be an intuitive response for homeowners who have dealt with a mailbox post that has been knocked over by a snowplow.
However, creating a mailbox post that will not break (over-engineering it) can be a liability trap that can backfire with great force.  Imagine the liability you could possibly incur if a neighbor lost control on ice and hit your mailbox that should have snapped at the base, but instead stopped the car in its tracks and injured those inside, which inevitably, might lead to a lawsuit.
By considering these four key elements for moving your mailbox, every homeowner can ensure the relocation of their residential mailbox is legal, as well as best for long-term service and enjoyment.
Installing a wall mount mailbox? Be sure to read our article on residential wall mount mailbox installation, visit our installation gallery on Flickr or check out our mailbox FAQ page.
Mailboxworks Offers Mailbox Installation Services
If you would prefer to have us move your mailbox or install a new mailbox in a different location and you live in the Chicagoland area, ask us about our mailbox installation services.

If you still have questions or need more information about moving your mailbox or about mailbox installation, please contact us online, by email, or call The MailboxWorks toll free at 1-866-717-4943.

Tags: Installation, Mailboxes, post mount mailboxes, Residential Mailboxes


Categorised in: Installation and Replacement, Mailbox Tips, Post Mount Mailboxes, Residential Mailboxes