Florence Cluster Mailboxes: A Primer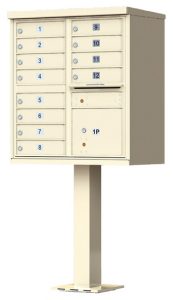 Florence cluster mailboxes (also called CBU mailboxes or cluster box units), are the US Postal Service standard for outdoor mailboxes.
In addition, the cluster mailboxes available at The MailboxWorks are the highest quality cluster box units available in the marketplace today and are designed to meet or exceed all US Postal Service standards. In fact, these Florence mailboxes have even earned LEED Certification for Leadership in Energy and Environmental Design.
Designed specifically for outdoor use, Florence CBU cluster mailboxes provide a quick way for postal carriers to open the entire unit and deliver mail without compromising the security aspects of the cluster box units. Learn more about USPS revised procedures for CBU mailboxes.
Master Cluster Mailbox Door
A special key, held only by authorized postal carriers, opens a master door to the entire cluster mailbox unit so that mail for each tenant can be quickly placed into the corresponding tenant mail slot.
Once the mail is delivered, the postal carrier simply closes the master door and locks the cluster box unit up again. To retrieve their mail, tenants simply utilize a supplied tenant mailbox key to open their specific mailbox.
Package Mailbox Key
Should a small package be delivered, the tenant will find a special package door key in their tenant mail compartment that will be inserted into the package bay door. Once the mail package is retrieved, the package door key remains securely in the door for the postal carrier to retrieve and repeat the process with the next package delivery.
Available Cluster Mailbox Sizes
Florence cluster mailbox units are available in four sizes corresponding to the number of tenant doors required:
8 door cluster mailboxes
12 door cluster mailboxes
13 door cluster mailboxes
16 door cluster mailboxes (the largest size)
For properties that require more than 16 tenant mailboxes, one very popular option is to order multiple CBU cluster mailboxes and to either:
Mount them along the path that a particular group of tenants utilize most.
Group all the cluster mailboxes in one general area on the property for centralized mail delivery.
The first option promotes convenience; the second promotes community.
Wise property managers take the time to weigh the needs of their tenants as well as to get local postmaster approval before purchasing and installing cluster mailboxes.
Available Mailbox Accessories and Options
Additionally, for property managers wishing to upgrade the utilitarian design of Florence cluster mailboxes, The MailboxWorks also offers a number of cluster CBU mailbox accessories. Here are three different and distinctive design upgrades:
Vogue Traditional CBU Mailbox Kit– This includes a roof cap and ball finial with rounded post column and stylish base
Vogue Classic CBU Mailbox Kit– Highlights the crisp lines of it's roof cap crown molding and comes with a reinforced column cover and mailbox pedestal base.
Decorative Stucco Column– Into which the cluster box mailbox unit can be installed into the stucco CBU mailbox center.
And for property owners requiring multiple cluster box mailbox units, The MailboxWorks also offers volume pricing (significant discounts for the purchase of multiple cluster mailboxes). Call us at 1-866-717-4943 to learn more.

Tags: Cluster Box Unit (CBU) Mailboxes


Categorised in: Commercial Mailboxes