Cluster Mailboxes, the Preferred Mail Delivery Method of the USPS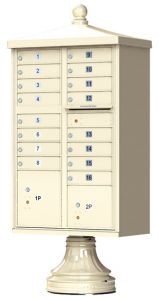 USPS approved cluster mailboxes are the preferred solution of the United States Postal Service for improving the efficiency of mail delivery, whether its cluster mailboxes for an apartment complex or a business complex.
The secret of cluster mailboxes is revealed when one compares the number of stops required by a postal carrier to deliver mail on a route with individual mailboxes versus delivering to cluster box unit mailboxes, which allow postal carriers to deliver eight to sixteen units of mail in a single stop.
Builders & Developers Prefer Cluster Mailboxes
For developers and builders, cluster mailboxes are an excellent first choice for mail delivery options. Cluster box unit mailboxes can be incorporated into tenant retention efforts, plus mailbox installation costs can be cut substantially.
Consider USPS cluster mailboxes when planning such projects as:
New communities of suburban housing
Apartment buildings
Business office complexes
Mobile home communities
Cluster Mailboxes Have a History
While most people consider cluster mailboxes a new trend, the fact is that cluster mailboxes (called NDCBU mailboxes or neighborhood delivery collection box units) have been in use along United States carrier routes since the late 1960's.
While the NDCBU is no longer utilized for new installations, today's USPS approved cluster mailboxes offer far greater security features and durability.
Cluster Box Unit Mailbox Configurations
Cluster mailboxes today are offered with an extraordinary number of features and configurations and can also be customized. You can buy cluster mailboxes with the following number of tenant mailbox slots:
Eight door
Twelve door
Thirteen door
Sixteen door
Cluster mailboxes also are available with both an outgoing mail slot and parcel delivery compartments, which allow tenants to securely receive packages along with their ordinary mail delivery.
Cluster mailboxes offered at The MailboxWorks, the nation's leading distributor, are available in a deep architectural color palette of six distinct choices that will work well with any building project.
Additionally, the customer service experts at The MailboxWorks all have hands-on experience with cluster mailboxes and are available to answer both common and highly detailed questions concerning all commercial mailbox options.
Efficiency of Cluster Box Mailboxes
The primary reason cluster mailboxes are so efficient for US postal carriers is that they allow the carrier to open the entire unit of eight to sixteen tenant compartments with a single key and then distribute the tenant mail with unfettered access to each unit.
Once the mail carrier completes the mail delivery, the all-access door can be closed so that each tenant must use their own secure key to access their tenant mailbox unit when retrieving their mail.
Cluster Mailboxes Decorative Kits
For builders and developers who wish to enhance the architectural design of their cluster box mailboxes, two decorative kits are available. These decorative kits are inexpensive, easy to install, and propel the cluster mailboxes from utilitarian appeal to sheer elegance.

Tags: Cluster Box Unit (CBU) Mailboxes


Categorised in: Commercial Mailboxes