Customize Your Cluster Box Unit Mailboxes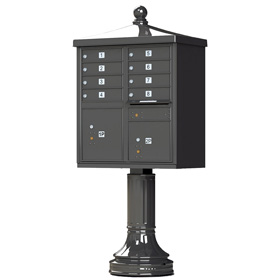 While cluster box unit mailboxes may be the most common mail and parcel delivery units available today, they don't have to look common.
Unique and distinctive looks that complement the architecture and design scheme of your property can easily be accommodated when purchasing your mailbox cluster box units from The MailboxWorks, the nation's largest distributor of cluster box units.
Choose Cluster Box Mailbox Color
One of the easiest and most cost effective ways to distinguish your cluster box mailbox units from the common look of cluster mailboxes is to select a color other than sandstone or postal grey, which are the typical colors purchased.
For a clean modern look, consider ordering your cluster box unit mailboxes in white or black. Not only do these two colors work well for the modern look, but they also complement a traditional or transitional scheme quite well.
For earth tone design schemes, dark bronze and forest green mailbox colors are also excellent choices. And both take the ubiquitous mailbox cluster box units and make them standout design statements.
Choose Tenant Door Identification
Beyond color, consider making a design statement with your mailbox cluster box units using the tenant mailbox door identification placards.
Instead of simply allowing standard silver placards to be placed on your cluster box unit mailboxes, specify engraved door identification with either an engraved silver look or a filled engraved look with either black or white paint.
Choose Decorative Mailbox Accessories
To elevate your mailbox cluster box units to the level of architectural statements, consider the most distinctive way to adorn your cluster box units with decorative accessories.
Choose one of two mailbox decorative accessory options created especially for cluster box units:
Vogue Traditional
Vogue Classic
Both are easy to install and both are available in color options that match the color schemes for all cluster box unit mailboxes.
Vogue Traditional Mailbox Accessories
The Vogue Traditional decorative mailbox accessories for cluster box units address both the typically flat roof of the cluster box unit mailboxes and the standard mailbox post.
To enhance the roof, the traditional decorative mailbox accessories for the cluster box units provide a gentle peaked roof with a ball finial on top.
To upgrade the mailbox post, the traditional decorative mailbox accessories kit contains a fluted column that arrives in two halves and snaps around the standard post to create a round, fluted Greek Doric style column.
A matching fluted mailbox post base (which also arrives in two halves) snaps around the cluster box unit mailbox post where it intersects the ground.
The result is a decorative option that provides a beautiful dressing for the typically rough area where the standard mailbox post intersects the concrete that holds the cluster box unit the ground.
Vogue Classic Mailbox Accessories
The Vogue Classic decorative mailbox accessory for cluster box unit mailboxes also addresses both the standard flat roof of the cluster box units and the standard post.
Instead of peaking the mailbox roof as the Vogue Traditional accessories do, the Vogue Classic mailbox accessory provides a detailed crown molding for the roofline.
And instead of providing rounded, fluted columns for the mailbox cluster box units, the Vogue Classic provides four-sided, squared columns with flutes and base molding, which simply arrive in two pieces and snap together around the cluster box unit mailbox posts.
Of course, these three design options can also be mixed and matched. Or for the most unique cluster box mailbox units, one can order:
Distinctive Mailbox Color
Distinctive Tenant Mailbox Identification Placard
Decorative Mailbox Accessory Kit
By adding any of these mailbox options together, these cluster box units will certainly provide a custom look for the property and one's tenants.

Tags: Cluster Box Unit (CBU) Mailboxes


Categorized in: Commercial Mailboxes