Advantages of House Number Lawn Markers & Address Plaques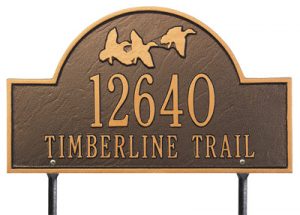 Decorative lawn address markers are no longer a product only utilized by the wealthy to identify their estate addresses.
Personalized lawn markers and lawn address signs are now available at all price points. They have also become an affordable option for many residential homeowners who want something more than just wall-mounted house numbers or a home address plaque.
Whether you are looking at 1-sided or 2-sided address lawn markers, in this post The MailboxWorks identifies the top four advantages that decorative lawn address markers and house number signs provide including:
You can position them wherever you want them
They are highly visible
They can be personalized
They are easy to install or relocate
Position Your Lawn Marker Wherever You Need It
The first major advantage of buying house number signs or decorative address lawn markers is that you can place them wherever you feel is most appropriate or most visible.
By convention, standard home address plaques and house numbers are generally affixed to a wall or pillar (or some other architectural feature) that is in close proximity to a home's front entrance. There are not a lot of options when it comes to where they can be positioned and in some cases, these are difficult to read from the street.
By contrast, you have a lot of flexibility when it comes to where to install your decorative lawn address markers. Many homeowners, especially those with larger estates, will opt to have both and keep their wall-mounted home address plaque, but also add a highly visible, decorative lawn address marker as well.
Decorative Lawn Address Markers Are Highly Visible
As a homeowner, you may also have concerns that in the event of a delivery or an emergency, your home address has to be both easy to find and easy to read from the street. Whether you need an ambulance, a fire truck, or the services of any other emergency or delivery personnel, it is imperative that your home address be highly visible.
For apartment property managers and condominium associations, installing highly visible decorative lawn address markers along the pathways in the complex will help tenants, guests, delivery trucks, and emergency personnel find the correct address quickly.
If you wish to have your address lawn marker better illuminated, consider adding the Whitehall Products' lawn solar lamp that automatically turns on at dusk, turns off at dawn, and is charged during daylight hours using solar energy.
Easily Personalized
Decorative lawn address markers already come in a diverse range of colors, sizes, and shapes including round, oval, rectangle, square, and various forms of ornately arched lawn markers. As a homeowner, you also have the option to order a personalized lawn address marker.
Choose either a single line or multiple line house number lawn marker and add your family name and/or your street name along with your home address numbers.
Easy to Install or Relocate
The fourth major advantage of buying decorative lawn address markers is that they are quite easy to install and if necessary, just as easy to relocate as you wish.
For soft lawns, the two lawn marker posts can easily be pushed into the ground, providing a finished look that makes it appear like it has "always been there."
For lawns that have tougher soil, prior to installation, simply soak the area with water where the lawn marker is to be installed. Once the ground is adequately soaked, pushing the two lawn marker posts into the ground should be relatively easy.
Still Have Questions?
The MailboxWorks carries a wide selection of residential mailboxes, house numbers and letters and lawn markers. For more information or if you would like to speak with any of our experts about decorative lawn address markers, please call us toll-free at 1-866-717-4943.

We can also be reached by email.

Tags: Address Plaques & House Numbers


Categorized in: Residential Mailboxes