Replace Your Mailbox Quickly If Damaged In a Storm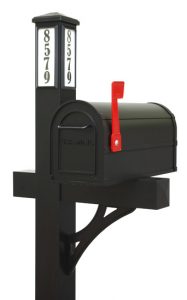 Installing a replacement mailbox should be a high priority if your old mailbox is damaged or destroyed in a storm or other natural disaster.
Why?
When Hurricane Sandy tore through the U.S. eastern seaboard in 2012, many communities (like Janis and Hugh Birdsall's in Clinton, Connecticut) found that the superstorm ripped not only their seaside homes from their foundations, but also their primary method of receiving financial help; their post mount mailboxes.
"The same thing occurred after Tropical Storm Irene," noted Hugh to a Wall Street Journal reporter covering the aftermath. "Our post mounted mailboxes were just ripped from the ground and we've learned it's crucial to prioritize their replacement."
Many residents noted that while their insurance adjusters showed up in person (armed only with clipboards to take their reports), the insurance checks needed to replace everything that was lost were actually sent by mail.
This meant that if a mailbox was damaged or missing, it was vitally important for the residents to install a replacement mailbox as soon as possible.
Plus, many out-of-state family and friends also wanted to mail a check to help out with the losses, which also added to the urgency of installing a replacement mailbox.
There were three key steps that residents needed to take in order to replace their old mailbox quickly and cost effectively:
Order replacement mailboxes online to minimize delay in delivery
Make sure temporary mailbox replacements were theft proof
Consider multi-unit mailboxes to reduce replacement costs
Order Replacement Mailboxes Online
Whether you need to replace the old mailbox, just the mailbox post, or you need a whole new mailbox and post set, the quickest way to receive a replacement mailbox is to order online from a reputable residential mailbox supplier.
The MailboxWorks carries a full line of residential replacement mailboxes in stock and provides accurate shipping estimates to ensure you receive your mailbox order as promised.
Beware of online "drop-ship" mailbox suppliers that do not have physical inventory and can't guarantee accurate shipping times or costs.
Make Your Temporary Mailbox Installation Theft Proof
Communities are most vulnerable to mail and identity theft following a major storm or some other natural disaster, when residents seek shelter elsewhere and their damaged properties are left unattended.
In the case of superstorm Sandy, many homeowners were forced to erect temporary mailboxes, in part, because the ground was oversaturated.
These temporary replacement mailboxes were often just a simple four-by-four mailbox post mounted in a five-gallon bucket filled with sand or quick-set concrete. Unfortunately, these temporary mailbox solutions were quite vulnerable to theft of not only the mail, but the entire mailbox.
Consider Multi-Unit Post Mount Mailboxes
Pooling resources and buying neighborhood multi unit mailboxes is a great idea if you and your neighbors are looking for a way to reduce mailbox replacement costs.
By ordering multi unit replacement mailboxes together, you can often take advantage of:
Lower pricing on quantity mailbox purchases
Additional savings on mailbox shipping
Lower installation costs for replacement mailboxes
Professional Mailbox Installation Services
For customers that live in the Chicago, Illinois area, The MailboxWorks also offers professional mailbox installation services. We even carry residential mailbox replacement parts.

If you still have questions about replacing a mailbox post or how to replace a mailbox on an existing post, you can reach our mailbox experts by email or call us toll free at 1-866-717-4943.

Tags: Installation, Mailboxes, post mount mailboxes, Residential Mailboxes


Categorised in: Installation and Replacement, Mailbox Tips, Post Mount Mailboxes, Residential Mailboxes