Buying a Mailbox from The MailboxWorks: 4 Key Perks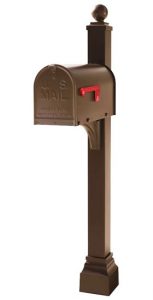 When buying a mailbox, who you are buying from is as important as the type of mailbox you buy.
Let's face it, buying a mailbox is a rare and infrequent event. In fact, most homeowners will purchase only a few mailboxes in a lifetime, if any at all.
So, it may be hard to find anyone to offer any sort of advice about where to buy a new mailbox and what is the best mailbox to buy for your needs.
Even if you have purchased a residential mailbox in the past, it may have been so long ago that you cannot remember. Be aware of the important aspects of what to look for, plus how to choose the best mailbox for your needs and if the vendor can help you when buying a mailbox.
This article will review the four key reasons why The MailboxWorks, the nation's largest residential mailbox supplier, ought to be your trusted mailbox source. We are the best place to go to when you need to buy a post mount or wall mount mailbox online.
Here are the four key reasons to consider us when buying a mailbox:
We offer the best mailbox selection
We are a vendor with a long successful history (since 1989)
We will service you beyond your purchase
We offer some of the most competitive mailbox prices
Widest & Best Mailbox Selection
The first reason you should buy a mailbox from The MailboxWorks is selection. Residential mailboxes are semi-permanent fixtures; outdoor accessories that are not changed from year to year. When it comes time for buying a mailbox, choose a vendor that offers the widest selection of choices for your family's needs. The MailboxWorks offers a wide variety of mailbox styles, mountings, colors, and functions including:
Wall mount mailboxes
Post mount mailboxes
Column mount mailboxes
Multi-mount mailboxes
Through the wall mailboxes
Novelty mailboxes
And More!
We are confident you will find more residential mailboxes to choose from at The MailboxWorks than in any other online store.
Mailbox Supplier Since 1989
A mailbox supplier with a long proven history is the second reason you should buy a mailbox from The MailboxWorks. In an age where trust is built through decades of successful transactions, you will want to entrust your mailbox purchase to the store that has sold hundreds of thousands of mailboxes since 1989.
Unlike start-up websites that drop ship products without any knowledge or experience in what they are selling, The MailboxWorks is different. We have had a strong online presence since the early days of the Internet. We are a residential mailbox provider that knows and understands every mailbox we sell. And, when buying a mailbox from The MailboxWorks, our mailbox experts can answer all of your questions.
Knowing that you can pick up the phone and talk directly to one of North America's foremost experts on residential mailboxes (and commercial mailboxes for that matter), you will gain a trust in knowing that you are buying a mailbox perfect for your needs.
Service Beyond the Purchase
The third reason for buynig a mailbox from The MailboxWorks is service. For every mailbox purchase at The MailboxWorks service also extends beyond the sale. The MailboxWorks is first and foremost a company that wants to serve you. So, when your mailbox arrives and you have a question about installation or USPS regulations, you won't be speaking to someone in a call center who is reading from a computer monitor. You will encounter a team of mailbox experts who has focused their lives on serving customers and dealth with practically every type of mailbox imaginable.
Best Possible Price When Buying A Mailbox
The fourth reason you should consider buying a mailbox from The MailboxWorks is price. Price alone should never be the determining factor in any purchase. However, whether you are buying a new mailbox from one of The MailboxWorks' premier brands or from a more economical mailbox selection; you will receive the absolute lowest price, period.
Where you choose to buy your mailbox from is the most crucial decision you can make in your purchasing process.
Call the experts at The MailboxWorks first at 1-866-717-4943 for the best selection, best service, and best prices when buying a mailbox.
Categorised in: Residential Mailboxes