Three New Trends in Wall Mount Mailboxes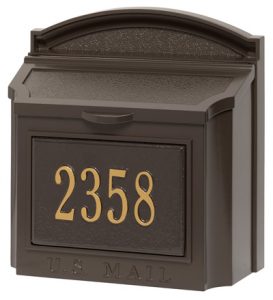 Decorative wall mount mailboxes, a common adornment of many urban neighborhoods, are one of the first improvements many home renovation experts make. In urban settings, the proximity of the front door and its decorative elements to the busy sidewalks of the city places a major emphasis on the transformation success of any residential renovation project. Thus, many renovation experts and do-it-yourself homeowners find that the purchase of new MailboxWorks Wall Mount Mailboxes is an essential element in their transformation project.
In the plethora of wall mount mailboxes available today, three major trends are emerging in 2012:
Contemporary Wall Mount Mailboxes
Architectural Wall Mount Mailbox Options
Wall Mounted Mail Vault Mailbox
Contemporary Wall Mount Mailboxes
The first trend is the rise in modern or Contemporary Wall Mount Mailboxes including custom modern mailboxes (painted in bold radiant colors) and stunning Stainless Steel Mailboxes. In years past, the purchase of the front door of an urban home launched the design process but with the rise of eye-catching modern wall mount mailboxes on the market, many renovation experts are taking their design inspiration from these innovative contemporary mailbox designs.
For example, consider the bold coloring and flowing lines of the MailboxWorks Knobloch Collection of Wall Mount Mailboxes. From the vibrant "Hollywood" red square to the stainless steel Phoenix with square cutouts on the front facade, these eye-catching residential wall mount mailboxes are the highlight of any front porch.
Architectural Wall Mount Mailbox Options
On the heels of the rise in contemporary wall mount mailboxes is the desire to punctuate the period or historical aspects of the home and its style with a new architectural wall mounted mailbox that reflects that home's architecture. In a world where new and improved is valued as better, finding a matching architectural mailbox used to be quite the task.
But The MailboxWorks, the nation's leading supplier of residential wall mount mailboxes, has assembled an extraordinary selection of Architectural Wall Mount Mailboxes with historical styles. For example, consider The MailboxWork's antique and Victorian Wall Mounted Mailboxes. In this narrow category of architectural mailboxes, The MailboxWorks offers five beautiful Victorian styles from the locking Pony Express style Victorian wall mounted mailbox with its swinging brass mail receiving plate to the stately Ecco 6 Victorian wall mount mailboxes that provide an understated elegance to any front porch. Both of these architectural mailbox choices are available in a wide variety of finishes that's sure to find a great match to any renovator's front porch project.
Wall Mounted Mail Vault Mailbox
Additionally, a third trend in wall mount mailboxes is the package receiving systems or wall vaults. These large wall mounted mail vault mailbox units are recessed or cut-into one's front porch walls to provide a secure drop point for not only one's mail but parcels as well. In urban settings, many homeowners are concerned about packages being left on one's porch since the sidewalk is just a few steps away. Which means any parcel left on the porch is simply begging to be stolen.

In response, The MailboxWorks has a wide variety of Wall Mounted Mail Vault Mailboxes. For example, consider the vault style mailbox found in the Streetscape Courtyard Wall Mounted Mailbox (a vertically oriented vault) or their Horizontal Gateway Wall Mounted Mailboxes. For maximum security, consider dVault's secure locking wall mount mailboxes that are available with large locking bottom holds.

Although the dVault locking mailboxes are designed for mail delivery only (no parcels), it allows a busy homeowner to head on vacation or business trips without fear of the mail overflowing their wall mount mailbox. An interior viewport allows the homeowner to see if mail has arrived without utilizing the key to retrieve it.

Tags: Collection & Drop Boxes, Large Capacity Mailboxes, Wall Mount Mailboxes


Categorised in: Design Inspiration & Gift Ideas