Pedestal 4C Mailboxes Can Lower Your Cost for Mounting Outdoor Multi-Tenant Commercial Mailboxes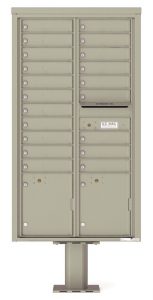 This article by MailboxWorks introduces 4C pedestal mailboxes, the newest of the three outdoor mounting options for commercial multi-tenant mailbox installations.
When it comes to multi-tenant commercial buildings, most developers and architects specify either indoor or outdoor 4C mailbox installation.
Yet, for decades, with most multi-tenant applications, Auth Florence 4C mailboxes were mounted inside the buildings, either as recessed 4C mailboxes or surface mounted directly to the wall.
Over the past few years, three new innovative approaches have emerged for mounting versatile 4C mailboxes outdoors. The most significant approach has been the installation of pedestal 4C mailboxes, which effectively triples the number of uses for commercial 4C mailboxes in multi-tenant buildings.
Outdoor Pedestal Mounted 4C Mailboxes
UPDATE: 4C Pedestal Mailboxes have been discontinued as of November 30, 2020. The USPS Cluster Box Unit (CBU) Mailbox is now the standard for all multi-family mail delivery.
The newest mounting option for versatile 4C mailboxes are the outdoor pedestal mounted 4C mailboxes.
Pedestal mounted Auth Florence 4C mailboxes provide a significant advantage over the common 16-door CBU mailboxes in that outdoor pedestal mounted 4C mailboxes are able to serve up to 29 tenants per unit.
This increase to 29 tenant mailboxes per installation significantly reduces the per-unit cost for the multi-tenant project.
For example, at the time of this article writing the 29-unit outdoor pedestal 4C mailboxes can:
Reduce the cost per tenant door from the standard CBU mailboxes rate of $185 per tenant door to less than half the rate at $75 per tenant door
Reduce the accompanying labor costs since there are less overall mailbox units that need to be installed
Of course, one does not need to select pedestal 4C mailboxes with 29 units for each application.  A variety of choices in tenant doors are available up to a maximum of 29 mailboxes per unit.
Flexible Mailbox Installation Options
Even more significantly, the fact that pedestal mounted 4C mailboxes can be placed anywhere on the property without the need to mount them to a building wall significantly increases the convenience factor for tenants.
The developer or architect can arrange the 4C mailbox installation to ensure that each tenant can easily access their 4C mailbox regardless of where their apartment or office is located.
In addition, when the convenience factor of one's project increases so does the all-important tenant retention factor.
Finally, selecting from any of the eleven available color choices allows the pedestal mounted 4C mailbox unit to be color-matched to any project.
Pedestal 4C Mailbox Surface Mount Collars
Regardless of what pedestal 4C mailbox size is selected or which color is chosen, a specific surface mount collar can be ordered to match the size and finish of the 4C mailbox unit. The final look is clean and no collar-to-4C mailbox connections will be visible.

While the surface mount collar exceeds US Postal Service guidelines, it is always advisable to seek local postmaster approval before the pedestal 4c mailbox installation.

Tags: 4C Mailboxes


Categorised in: Commercial Mailboxes