Introducing the Innovative Elephant Trunk Mailboxes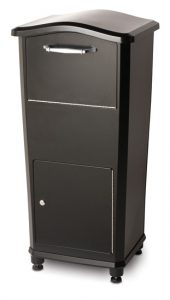 The MailboxWork's Elephant Trunk Mailbox is one of the newest and timely mailbox innovations; a secure parcel drop box brought to both homeowners and business leaders by The MailboxWorks, the nation's leading mailbox retailer.
Now you can avoid having your parcel delivery left out in plain sight, where it can be subject to the weather or to mail theft.
Elephant Trunk Secure Drop Box Design
The Elephant Trunk mailbox is a secure locking parcel drop box that is cleverly named because it can hold a lot. In fact, the Elephant Trunk mailbox can accept multiple packages as large as 11.5 x 9.3 x 7.3 inches.
Elephant Trunk mailboxes are a direct response to the massive shift in the way homeowners and business leaders shop. Two decades ago, most purchases were made in local stores. Today, many of those purchases are now made online.
In an October 27th 2012 article the New York Times stated that "167 million United States consumers now shop online, according to a report by Forrester Research".
That means more than half of the 314 million US citizens use the Internet for shopping and need a safe, secure parcel drop box for home parcel delivery.
Internet shoppers buy all types of items online such as clothing, which seems to be the most popular online purchase. With that in mind, Architectural Mailboxes designed the Elephant Trunk parcel drop box, a secure locking mailbox drop box that can accept large parcel delivery from major parcel carriers like U.P.S.
The corresponding result of this purchase shift in our culture is that many homeowners and business leaders now receive several packages a week and often at times when they are not home or at the office to receive them.
Elephant Trunk Mailbox Eliminates Theft & Parcel Damage
When packages cannot be delivered personally by postal carriers and delivery firms such as U.P.S., most packages are left exposed on the doorstep or porch; a practice that often leads to parcel damage or theft.
The MailboxWork's Elephant Trunk mailboxes simply provide a secure parcel drop box for safe package delivery.
With the Elephant Trunk mailboxes, Internet store orders are not exposed to theft, which translates to the elimination of costly delays in replacing stolen orders, and no hassles with parcel delivery firms to replace the missing parcel.
Additionally, parcel delivery orders that require a signature can be left by the carrier in the secure parcel drop box container inside the Elephant Trunk mailboxes.
Securely Receives Multiple Large Parcels
The genius behind The MailboxWork's Elephant Trunk mailboxes is their size.
These locking parcel drop boxes are large enough to accept multiple package deliveries for the most common parcel sizes but not so large as to become an eyesore on one's porch.
Elephant Trunk mailboxes are both attractive and effective. Available in black, white, red, and oil rubbed bronze, these locking parcel drop mailboxes are crafted of heavy gauge steel and cast aluminum panels that are powder coated for durability and a classy finish. They are also ideal for home based businesses!
How Elephant Trunk Mailboxes Work
The MailboxWorks' Elephant Trunk mailboxes utilize a drop box door with a rotating drum design inside the mailbox that allows the carrier to place the parcel inside the drop box and simply secure it by closing the entry door. This triggers the drum rotation to drop the parcel into the bottom receptacle of the Elephant Trunk mailbox, which is cushioned to protect the packages from the fall.
The homeowner or business leader can simply retrieve their parcels at any time by using their key to open the parcel access door, which features a pry-resistant three-point lock system. All Elephant Trunk mailboxes come standard with two parcel access door keys.
The entire parcel drop box unit can also be secured to the foundation platform on which it stands with the enclosed complimentary bolts.
Parcel Delivery Drop Box Accessories
Elephant Trunk mailboxes also come standard with three helpful parcel delivery drop box accessories:
A bright yellow "No Deliveries" indicator to suspend deliveries when the homeowner or business leader is out of town.
The Elephant trunk mailbox utilizes a magnetic door catch so the door is never left open but automatically closes and seals to keep one's mail and packages dry and secure.
A doorbell location placard is also included that directs delivery drivers to the Elephant Trunk mailbox location.
To learn more about the Elephant Trunk mailbox, a secure parcel drop box, contact The MailboxWorks.

Tags: Collection & Drop Boxes, Large Capacity Mailboxes


Categorized in: Locking Mailboxes