Cleaning CBU Mailboxes Easy Care and Maintenance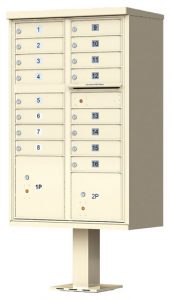 The same Florence CBU mailboxes that protect your tenant's mail from mail theft and provide every day convenience for mail pickup and delivery are also very simple to maintain and clean.
Designed and manufactured by Auth Florence with heavy-duty aircraft grade aluminum and rust-resistant stainless steel hinges, MailboxWorks' CBU Mailboxes are strong enough to withstand most all environmental conditions. And due to the weatherproof powder coating, these commercial mailboxes do an excellent job of resisting erosion, dents, scratches, and peeling, year after year.
How to Clean CBU Mailboxes
While Florence commercial mailboxes are virtually maintenance-free, occasionally property managers inquire as to how to properly care and maintain these commercial CBU mailbox units.
For example, when a lawn care professional accidently blows fresh lawn clippings across the commercial CBU mailbox units, one needs to know how to clean the mailboxes properly.
Well, the most straightforward manner is to simply use a soft cloth moistened with any brand of mild detergent or appropriately diluted biodegradable, water-based cleanser, such as Simple Green™. The CBU mailboxes can simply be wiped down from top to bottom, as one does with any type of outdoor equipment.
It is advisable to avoid abrasive cleaners such as Comet™ or Brillo Pads™ as such cleansers may damage the CBU mailbox surface. Once the commercial mailbox units are soaped properly, they can be rinsed with plain water and allowed to air dry. It is advisable to avoid cleaning CBU mailboxes during extreme temperature conditions.
CBU Mailboxes & Coastal Climates
For commercial mailboxes installed in coastal climates where fog is prevalent, the recurrent cycles of condensation and drying from the climate can create a heavy build-up of atmospheric salts and dirt that may adhere to the CBU mailbox units tenaciously. To avoid this kind of build-up on Auth Florence CBU mailboxes, it is advisable to clean the cluster mailbox units more frequently than one would with units that are installed in non-coastal areas.
Removing CBU Mailbox Graffiti
For commercial mailboxes that have been vandalized by graffiti, it is often possible to remove spray-painted or marker-applied graffiti from the powder coated surfaces of CBU mailbox units by using a mild, petroleum-based solvent, such as mineral spirits, or a strong cleaner such as Krud Kutter™.

When utilizing these stronger cleaners on commercial mailboxes one should not allow the chemicals to remain on the surface of the CBU mailbox units indefinitely. Instead, one should rinse and remove all residue with a milder cleaner followed by a water rinse. Additionally, before utilizing these stronger cleaners on Florence CBU mailboxes, one should test-clean a small obscure area first on the bottom of the mailbox unit.

For commercial CBU mailbox units that require touch-up paint, please Contact The MailboxWorks for the proper color match to the CBU mailbox unit one is retouching.

Read more about Florence Manufacturing in our article on Florence Manufacturing Cluster Mailboxes.

Tags: Cluster Box Unit (CBU) Mailboxes


Categorised in: Commercial Mailboxes