Florence Manufacturing Cluster Mailboxes The Postal Service Standard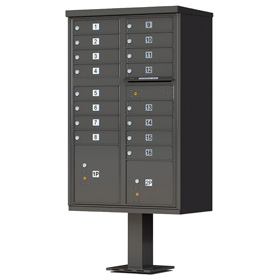 When searching for outdoor mailboxes for centralized mail delivery at their development projects most builders and developers give significant consideration to cluster mailboxes, and rightly so.
Cluster mailboxes (also called CBU mailboxes or cluster box units) by The MailboxWork's Florence Manufacturing, are the highest quality and longest lasting Commercial Mailboxes for Multi-Tenant Mail Delivery on the market today.
UPDATE: 4C Pedestal Mailboxes have been discontinued as of November 30, 2020. The USPS Cluster Box Unit (CBU) Mailbox is now the standard for all multi-family mail delivery.
Official Supplier to the US Postal Service
All Florence Manufacturing Cluster Mailboxes meet or exceed US postal service standards and are offered in a broad spectrum of sizes, finishes, and options.
In fact, the craftsmanship and design of Florence Manufacturing (also called Auth Florence) cluster mailboxes are of such quality, that the US Postal Service has named The MaiboxWork's Auth Florence Manufacturing as the official supplier to the US Postal Service. In addition, the Postal Service has officially licensed the Auth Florence F Series cluster mailboxes as the standard of design for all other CBU mailbox manufacturers.
Anti-Theft Properties
One of the primary reasons, Florence Manufacturing cluster box units were selected as the Postal Service standard is their very design thwarts mail theft and hence, identity theft (a growing societal problem and a threat to consumer confidence in the US Postal Service since mail theft is often confused with poor delivery services). To prevent mail theft, Auth Florence cluster box units utilize aircraft grade aluminum and steel construction with a protective powder coat.
Vandal Proof Design
Additionally, The MailboxWork's Florence Manufacturing cluster box units are also available in a vandal proof finish for applications where high security mail delivery is paramount such as high tech corporate mail delivery or governmental mail delivery applications. And the additional costs of the vandal proof mailbox options are not significant so even apartment and business tenant units can add this upgrade to improve their mail delivery security.
Cluster Mailbox Door Configurations
Choosing the right Auth Florence cluster box units for one's project is simple; divide the total number of tenant units in one's project by the number of desired outdoor cluster mailbox locations. For example, if one is constructing a 128-tenant apartment building and wants to provide 16 outdoor mailbox locations, then dividing 128 by 16, one would determine that each of the cluster mailbox units would need to have a minimum of 8 tenant doors.
Auth Florence CBU mailboxes are offered in the following configurations:
8 door
12 door
13 door
6 door
Pedestal 4C Mailboxes
The MailboxWorks' Auth Florence Pedestal Mounted 4C Mailboxes are recommended for applications that require cluster mailboxes with non-standard door configurations. These pedestal mounted 4C mailboxes must be approved by one's local Postal Service postmaster before installation but offer non-standard tenant door unit sizes; up to 29 doors per unit. These 4C pedestal mailboxes are also constructed to the highest standards and feature powder coat finishes that ensure longevity.
Cluster Mailboxes Finish
In addition to selecting the right number of tenant doors for one's CBU mailboxes purchase, one also should consider the powder coat finish desired. The MailboxWork's Florence manufacturing cluster mailboxes are available in six durable powder coat finishes:
Black                    Postal Grey
White                    Forest Green
Sandstone            Dark Bronze
Further customization of the style can be made through the selection of five different tenant door identification tags:
Standard silver placards numbered 1 to 8
Custom silver placards with up to three numbers per placard
Engraved numerals with no fill
Engraved numerals with black fill
Engraved numerals with white fill
Additionally, Auth Florence decorative mailbox accessories can further dress up one's cluster mailboxes. These CBU mailbox decorative accessories provide roof caps, finials, and pedestal covers that turn ordinary CBU mailboxes into architecturally pleasing cluster box units.

Tags: 4C Mailboxes, Cluster Box Unit (CBU) Mailboxes


Categorised in: Commercial Mailboxes