Purchasing a Residential Mailbox?
Here's What You Need to Know Before You Buy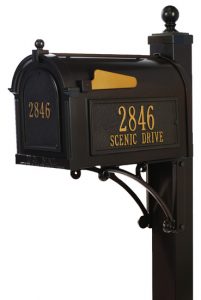 Like most homeowners who receive walk up mail delivery, you may find yourself in unfamiliar territory when looking to purchase a residential mailbox for your home.
Unlike buying furniture or garden supplies, buying a residential mailbox occurs very infrequently and in essence, may be a very unfamiliar purchase for you.
Yet, as a homeowner, you understand that your residential mailbox is both a key accessory that will be utilized nearly every day plus, your home mailbox is also a key design element that signals the architectural style of your home to the entire community.
So, because buying a mailbox is both an important and infrequent purchase, the experts at The MailboxWorks (the nation's leading retailer of residential mailboxes) offers the following 5 tips for buying a mailbox for your home. You will need to decide:
Which mailbox type you need
What mailbox features you want
What architectural style do you need in a residential mailbox
What mailbox color and finish do you want
Which mailbox vendor do you want to buy a residential mailbox from
Mailbox Type
First, the mailbox experts at The MailboxWorks recommend that you start the mailbox purchase process by determining which one of the four primary types of residential mailboxes do you currently use:
As a homeowner, if you do not wish to utilize the same type of mailbox you currently have or if you are installing a residential mailbox on your property for the first-time, The MailboxWork's experts recommend that you contact your local postmaster to confirm which type of mailbox is permissible. Often, your local postmaster will have specific advice on what type of residential mailbox they require or will allow for walk up mail delivery in your local area.
Mailbox Features
Once you have identified the type of residential mailbox you want to purchase, the mailbox experts recommend that as a homeowner, you consider the practical features you most desire or need in a mailbox.
Due to the increase in mail theft and identity theft, buying a residential mailbox with a secure lock is highly recommended. All four types of residential mailboxes are now available with security features such as locking mechanisms.
Additionally, you should consider whether you wish to add a mailbox address plaque or house numbers to your mailbox so that friends, family, and emergency response personnel can quickly locate your home.
Other unique mailbox features that you should consider as a homeowner include newspaper holders, signal flags (to help the mail carrier know whether outgoing mail is inside the mailbox), or buying a larger mailbox size, in case mail volume increases over vacation periods or holidays, or if you run a home based business.
Mailbox Architectural Style
Thirdly, the experts at The MailboxWorks advocate that as a homeowner, you should consider how your residential mailbox will augment the architectural style of your home.  All four types of residential mailboxes are available in a wide variety of architectural styles such as Victorian, modern, traditional, Art Deco, and more.
The style of the residential mailbox you buy should compliment your home and provide a clear signal to those visiting as to the style of home you live in.
Mailbox Color & Finish
The fourth consideration to think about is the mailbox color and finish you would want in your new residential mailbox.
Unlike the architectural style of the mailbox, the color and finish can either compliment or provide contrast to the style and finish of your residence.  For example, a white house can provide a stunning background to a brightly-colored mailbox while a rust-colored brick home is beautifully complimented with a neutral color such as black, white, or bronze finish.
Mailbox Vendor
The final consideration to think about when buying a residential mailbox is where you should purchase the mailbox from.

Many online mailbox vendors and retailers offer only drop ship services and have never even physically seen the mailboxes they sell online. They simply load up an online storefront with pictures of mailboxes that are drop shipped to your home from a manufacturer's warehouse.

Such online mailbox vendors do not understand the products they sell nor do they provide help when shipping issues arise or when a product fails.

The MailboxWorks has been a leading retailer of both residential and commercial mailboxes since 1989. Unlike other mailbox vendors in the marketplace, they provide customers with a wonderful shopping experience online, on the phone, or in person at their mailbox store in Naperville, Illinois (a Chicago suburb). They can be reached at 1-866-717-4943.

Tags: Buying Mailboxes, Mailbox Tips, Residential Mailboxes


Categorised in: Mailbox Tips, Residential Mailboxes