Four Ways to Save When Buying Commercial Mailboxes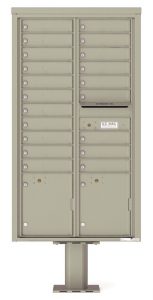 Commercial mailboxes for centralized mail delivery are vital fixtures for apartment and business complexes.  Yet, whether you are buying commercial mailboxes for apartments, commercial buildings, or for private delivery, the purchasing process doesn't have to be unnecessarily cumbersome or expensive.
The mailbox experts at The MailboxWorks, the nation's leading wholesaler of commercial mailboxes for USPS delivery, can help improve the buying experience for developers plus property owners and managers with these four key secrets for saving both time and money:
Call your Local Postmaster First
Order from Mailbox Experts
Request Mechanical Drawings
Buy in Bulk
Contact Your Local Postmaster
First, if you are replacing commercial mailboxes, a simple phone call to your local postmaster may lead to instant, significant savings in your mailbox purchase, as many commercial mailboxes can simply be replaced, as long as the same product is utilized. And often, the cost of replacement mailboxes, and the associated installation labor, can lead to significant savings for your project.
Order from Commercial Mailbox Experts
Second, even if you are somewhat confident in the ordering process, you can nearly always save both time and money by placing a call to the experts at The MailboxWorks.
Buying budget commercial mailboxes from online call centers that simply drop-ship their products (they don't actually warehouse any mailboxes), can lead to major errors or even ordering the wrong mailbox configuration or product, which can not only waste your hard earned dollars but also your valuable time.
The mailbox experts at The MailboxWorks have decades of experience and can guide you not only to the best product for your application but also the most efficient mailbox configuration for your purpose, and your tenants. And, they ship from their own warehouse! The expertise offered at The MailboxWorks is unparalleled.
Be wary of buying commercial mailboxes from kitchen table Internet ordering operations that contract with call centers (who read from a script) and drop ship products to clients without ever seeing or understanding the mailbox products they are providing.
Centrally located at their Chicagoland retail store and warehouse, the experts at The MailboxWorks are exceptionally knowledgeable and always just a few feet from the actual products you are inquiring about. They know every aspect concerning any type of commercial mailbox you may need and can not only answer your questions, but also offer expert advice for your particular application.
Ask for Mechanical Drawings
Requesting mechanical drawings is the third way that can help you save in the long run. The experts at The MailboxWorks will provide mechanical drawings for the commercial mailboxes specified in your order or quote. Such drawings not only allow you to verify that you and the expert at The MailboxWorks are communicating well, these free drawings also allow you to double-check with your supervisor or installer that you are purchasing the right commercial mailboxes for your project. The review of these drawings is a key secret that will ensure time and money are not being wasted.
Buy in Quantity
The fourth way to realize significant cash savings is by ordering commercial mailboxes in quantity. At The MailboxWorks, quantity discounts begin with the order of just a second mailbox unit and discounts increase with the order of additional units.

Tags: Commercial Mailboxes, Mailbox Tips


Categorised in: Commercial Mailboxes, Mailbox Tips