Why Buy Mailboxes from The MailboxWorks (part 1)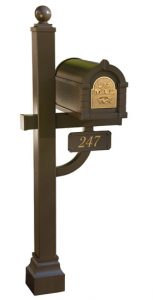 When it comes to deciding where to buy a mailbox, you have a wide variety of choices. This is true whether you want to buy a residential mailbox or buy commercial mailboxes. But not every choice is the best one for your family or business.
And given the unscrupulous practices of some Internet mailbox stores, your choice of where to buy a mailbox online really matters.
So, before you buy a mailbox online, consider these three reasons why The MailboxWorks should be the store you trust when it comes to buying commercial mailboxes or residential mailboxes.
We are mailbox experts
We can offer expert advice
We stay up-to-date with changing USPS mailbox regulations
Here's a brief overview of these three very important reasons for making The MailboxWorks your preferred online mailbox store.
Reason #1
The MailboxWorks' sales representatives are North America's foremost mailbox experts.
Many competing fly-by-night online mailbox stores don't actually know the products they sell. They operate from kitchen countertops or simply contract all their online mailbox orders to a call center. When you call, the call center personnel are not mailbox experts. They do not know the right questions to ask to make sure you are buying the best residential mailbox for your home or the best commercial mailbox for your business. They simply want you to give them a product number so they can enter it into their order-placement software and have the mailbox drop-shipped to your location.
The representatives at these dropship online mailbox stores have never actually seen or touched the mailboxes they are trying to sell you online. If they don't ask you questions or are unable to answer any of your questions about their mailboxes for sale, this is a clear sign that they don't have the product expertise to help you buy the best mailbox for your needs.
You Can Talk to A Mailbox Expert – At The MailboxWorks, every question, whether online or on the phone, is answered by one of North America's top experts in commercial and residential mailbox sales.
If you are a developer, our commercial mailbox experts can provide you with expert guidance and specifications on all our commercial mailboxes including:
Cluster mailboxes (CBU mailboxes)
Horizontal mailboxes
Drop boxes
Mailbox shelters
And much more
Reason #2
The MailboxWorks can offer excellent advice and guidence.
Are you a homeowner's association (HOA) trying to decide where to buy a mailbox? Do you need to buy a wall mount mailbox or a mailbox and post for your own home?
We can provide you with top-notch expert guidance and help you select and buy the perfect residential mailbox online.
Practically all online-only mailbox stores "drop ship" all the residential and commercial mailboxes they sell. Drop shipping is when the mailboxes you have purchased are not shipped from the company you purchased it from but rather from a third-party you've never met.
Before you buy mailboxes from an online mailbox store, be sure to check them out. Don't let yourself be fooled by online mailbox stores that try to imitate a real store.
Drop shipping is not always an indication of a poor mailbox store or vendor. It is not uncommon for most online mailbox stores to drop ship some of their mailboxes in order to help customers save on shipping costs.
However, most online mailbox stores that only drop ship mailbox products don't have a feel for or the knowledge about what they're selling. One day they could be selling mailboxes and the next day they could be selling stuffed animal toys. All they are interested in is your cash.
Before you decide where to buy a mailbox online, be sure to check out the online mailbox supplier first. Don't let yourself be fooled by online mailbox stores that try to imitate a real store and don't have representatives that can provide the guidance you may need.
Experienced online mailbox suppliers and distributors like The MailboxWorks are quite different. When you contact us you are interacting with our top-notch customer service experts, people that know mailboxes. Our representatives are familiar with all the features and benefits of the mailboxes we sell.
Reason #3
The MailboxWorks stays abreast of USPS regulations concerning residential and commercial mailboxes.
Online-only stores simply sell product numbers; they have no idea of whether or not the Postal Service (USPS) will approve of the mailboxes you buy.
For example, if you are purchasing commercial mailboxes, your mailbox supplier should inform you whether or not this significant purchase will comply with USPS requirements or whether it will be considered a private mail delivery system that your postal carrier will refuse to deliver to.
Still Questioning Where to Buy A Mailbox?
Since The MailboxWorks is the continent's leading online retailer of residential mailboxes and commercial mailboxes, we stay on top of the ever-changing postal regulations.
We are always here to assist you when you want to buy a residential mailbox for your home or commerical mailbox for your business.
If you still have questions about where to buy a mailbox or need help placing a mailbox order, contact us through our online contact form or call The Mailboxworks customer service line toll free at 1-866-717-4943.
Categorised in: Commercial Mailboxes, Residential Mailboxes