Bronze Whitehall Mailbox: The Fine Look of Luxury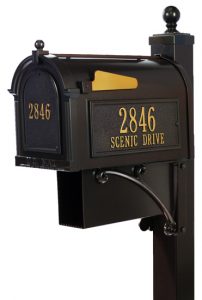 As homeowners today are looking for value-added property improvements, one simple idea is to replace standard mailboxes with elegant, estate-style Bronze Mailboxes. For instance, the post mounted Whitehall Estate Mailbox Package provides an instant look of luxury for any property whether estate-sized or not. A simple change of your curbside residential mailbox or a wall mount mailbox can bring years and years of proud satisfaction as well as classic elegance to your home.
And bronze mailboxes today no longer are accompanied by enormous price tags. For example, Whitehall bronze mailboxes are constructed by pouring aluminum into a cast mold then adding a bronze and highly protective powder coat finish. This produces a stunning depth of color since the mailboxes can be finished in bronze, white or black. Any discerning eye can quickly see that the bronze Whitehall mailbox is extraordinarily durable, lightweight, and impervious to rust. In fact, every Whitehall bronze mailbox is so well constructed that The MailboxWorks, the nation's largest mailbox provider, includes a limited lifetime warranty direct from the manufacturer.
The estate quality, Whitehall bronze wall mount mailbox comes complete with all the hardware to easily mount your residential mailbox to your home wall. And of course, post-mounted Whitehall bronze mailboxes also come complete with the necessary hardware to mount your new mailbox to a post – although the look of luxury is really made complete when one chooses to augment the purchase with a bronze post sleeve that covers a standard 4" x 4" post.
Decorative Mailbox Post options for these elegant Whitehall bronze mailboxes provide nearly as many options as the bronze mailboxes themselves. Standard bronze post covers allow the Whitehall bronze mailbox to be mounted atop the post while the deluxe bronze posts are adorned with beautiful decorative scroll brackets, which cantilever the mailbox from the back of the mailbox out towards the curb. This cantilevered deluxe post is often preferred in locations where snowfall requires street plowing and the homeowners are seeking to minimize any possible damage to one's mailbox.
Either post for the bronze Whitehall mailbox is available with a striking decorative cuff that provides the same effect as luxurious baseboard molding in one's home. For those selecting the cantilevered deluxe bronze post, additional options such as a ball finial or pyramid top are also offered at no additional cost. The resulting Whitehall post mount mailbox is an estate-quality first impression that neighbors and visitors to one's home will admire for years and years.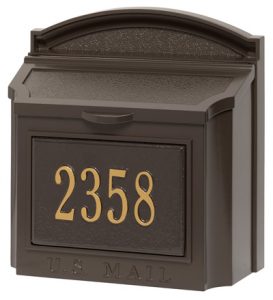 And whether wall-mounted or post-mounted, these Whitehall bronze mailboxes can be customized with personalized Mailbox Address Plaques and Numbers to make it more convenient for friends, family, and local services to locate your home. The Whitehall bronze wall mounted mailboxes have the personalized address plaque mounted on the front of the mailbox and the post-mounted bronze Whitehall mailboxes offer up to four personalization areas: the front door of the mailbox, both or either side of the mailbox, as well as a bronze mailbox topper that sits above the mailbox to add an even more luxurious look to the estate-like mailbox.

Oversized, the Whitehall bronze mailbox holds a generous portion of mail, which allows today's busy homeowner to rest easy when away on vacations or long weekends as these bronze mailboxes are large enough (about 20% larger than standard Residential Mailboxes) to hold multiple days of mail deliveries. The large size of the bronze mailboxes also prevents magazine curling and damaged mail that often results from standard size mailboxes or smaller mailbox sizes.

For those homeowners seeking post-mounted bronze Whitehall mailboxes, these fine residential mailboxes are also offered with an optional newspaper holder that sits discretely beneath the bronze mailbox to provide easy delivery access and the convenience of gathering one's newspaper along with one's mail.

Tags: Mailbox Style Guides, Metallic Mailboxes, post mount mailboxes, Wall Mount Mailboxes


Categorised in: Residential Mailboxes