3 Reasons Builders Specify 4C Pedestal Mailboxes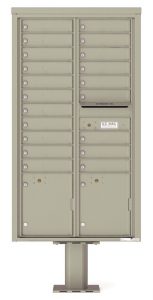 There are three key reasons why more and more builders and developers are utilizing 4C pedestal mailboxes as outdoor USPS centralized mail delivery systems:
They are very versatile and offer many layout options
They can be customized
Total cost after installation is less than CBU mailboxes
Commercial 4C mailboxes are most commonly used indoors as secure USPS mail delivery systems for apartments, condominiums, and business complexes. They can also be installed outdoors as commercial pedestal mailboxes for either USPS delivery or for private mail delivery (pending local USPS approval).
"Colleges and universities, as well as hospitals, military bases, and government buildings have utilized 4C pedestal mailboxes for private mail distribution," notes Pam Pantaleo.
As one of the commercial mailbox experts at The MailboxWorks, Pam adds, "Now we are seeing more and more developers and apartment building owners seeking permission from their local postmaster to utilize these secure 4C mailboxes on their projects and properties."
4C Pedestal Mailboxes Offer Plenty of Layout Options
The first key reason why developers and builders want to use outdoor 4C pedestal mailboxes for their tenant's USPS mail delivery is the versatility in terms of layout options that these commercial mailboxes afford.
The uber-popular cluster box units (CBU mailboxes) are the postal industry standard for USPS mail delivery but they only provide layout configurations of 4, 8, 12, 13 or 16 tenant mailboxes per CBU mailbox.
However, these commercial 4C mailboxes provide a lot of versatility. The tenant mailboxes can be configured as either single wide or double wide mailbox units in multiple configurations:
With 1 – 7 tenant mailboxes per unit
With 8-15 tenant mailboxes per unit
With 16-29 tenant mailboxes per unit
Drop Boxes & Parcel Lockers: The 4C pedestal mailbox and post combo can also be configured with or without collection drop boxes and with or without parcel lockers. This kind of versatility allows builders and developers to better meet the specific needs of each project.
NOTE: All 4C  mailboxes with ten tenant mailbox doors or more that are utilized for USPS mail delivery service are required to include a parcel locker. For more information, see the United States Postal Service (USPS) guidelines.
4C Pedestal Mailboxes Can Be Customized
The second key reason why commercial 4C pedestal mailboxes are preferred by developers, builders, and property management firms is because they can be easily customized.
The MailboxWorks provides several custom mailbox door numbering and identification options. For example, tenant mailbox doors can be identified with either engraving or custom door decals.
Engraved door numbering can have up to two lines per engraving with up to twelve characters per line at three-quarters of an inch tall.
Decaled door numbering may have up to five characters (numerals or alphabet characters) per decal and decals are always one and half inches by one and three-quarter inches in size.
Total Cost After Installation Is Less
The third key reason why more and more developers and property management companies are specifying 4C pedestal mailboxes for outdoor use is the lower cost. The total cost after the 4C mailbox installation can often be significantly less than a comparable number of CBU cluster mailboxes.
For example, when buying a quantity purchase of "six" individual 29-unit pedestal mailboxes, the cost would be $2,258.49 each for a total cost of $13,550.94. By comparison, you would have to purchase and install "eleven" of the 16-unit CBU mailboxes to gain an equivalent number of tenant mailboxes.
While the cost of "eleven" 16-unit CBU mailboxes at The MailboxWorks equates to $13,222 (which is slightly cheaper than "six" 4C pedestal mailboxes), after installation, the cost would be higher. In essence, the commercial pedestal mailboxes would be a less expensive choice.
Less Physical Space – Another benefit is that the "six" 4C pedestal mailbox units would take up less physical space than installing "eleven" 16-unit CBU mailboxes.
About The MailboxWorks
The MailboxWorks has been the nation's leading wholesaler and online mailbox retailer for commercial 4C mailboxes since 1989.
If you are a developer or builder, we'd be happy to assist you or answer any of your questions about outdoor, commercial 4C pedestal mailboxes. We can be reached at our toll free number at 1-866-717-4943 or please send us an email.
Categorised in: 4C Mailboxes, Commercial Mailboxes