When Buying Wall Mount Mailboxes Consider These Four Key Factors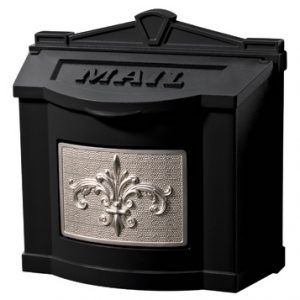 As the name implies, residential Wall Mount Mailboxes are mailboxes that are mounted on the wall of your home. Wall mounted mailboxes are extraordinarily convenient, easy-to-install, and are available in a wide variety of styles. Whether one is considering a wall mounted mailbox for a newly constructed residence or to replace a tired wall mount mailbox, four key factors regarding the purchase of wall mount mailboxes should be considered:
Location
Mail Capacity
Security
Mailbox Style
Where to Mount Your Wall Mount Mailbox
Residential Mailboxes can be post mounted or wall mounted so if you are purchasing a wall mount mailbox you must first consider where you would like to mount it. If one is replacing an older or damaged wallmount mailbox, it is not a foregone conclusion to simply mount the new wall mount mailbox in the old location. Foliage growth or home repairs may have made the old wall mount mailbox location difficult for the postal carrier and the homeowner to access. Additionally, locations where overstuffed wall mounted mailboxes can be easily seen from the street may create security concerns for the homeowner. Thus, the best location for wall mounted mailboxes can be determined by balancing the convenience of access with security concerns. For example, if it poses no more inconvenience for the homeowner or postal carrier to mount the wall mount mailbox on a wall perpendicular to the street (one that does not face the street), then such a location will reduce the visibility of the wall mount mailbox and reduce the potential for mail theft to occur.
Wall Mount Mailbox Sizes
The second thing to consider is the mail capacity required before purchasing wall mount mailboxes. If the homeowner regularly retrieves the mail and uses postal service mail holds for vacations and time away from home, then a standard size or smaller wall mount mailbox may be appropriate. If one subscribes to several magazines, operates a home business, or receives a larger than normal volume of mail, then large wall mount mailboxes may provide a far better choice.
Locking Wall Mount Mailboxes
The third thing to consider is the security needs of the homeowner. If the wall mount mailbox is easily accessible by street traffic or potential vandals or thieves, a locking wall mount mailbox may be the best choice. A wall mount mailbox with lock makes it easy for the postal carrier to insert the mail into the box with no more difficulty than a non-locking wall mount mailbox. However, locking wall mounted mailboxes, like any locking function on a mailbox, may also impose a small daily inconvenience for the homeowner to lock and unlock the wall mount mailbox with each access. So, before purchasing a wall mount mailbox, balance the need for security with the daily inconvenience of unlocking and locking one's wall mount mailbox to retrieve mail.
Wall Mount Mailbox Style
The forth thing to consider when purchasing wall mount mailboxes is the architectural style of one's home. Wall mounted mailboxes are available in classic, contemporary, modern, Victorian, antique, and many decorative styles. And while one may prefer one particular wall mount mailbox style over another, the best approach to choosing the style of wall mount mailbox you need is to choose one that compliments the architectural style of one's residence. A stainless steel modern mailbox such as the Blomus mailboxes may look extraordinary in a catalog or on a retail webpage but would look quite out of place on a Victorian-style home. Likewise hummingbird wall mount mailboxes would look odd on a contemporary home.

Thus before selecting wall mounted mailboxes, consider location, capacity, security, and style. By carefully considering each of these factors, one can select the perfect wall mount mailbox for their home.

Tags: Wall Mount Mailboxes


Categorised in: Mailbox Tips & General Information