Four Most Popular Features of Residential Wall Mount Mailboxes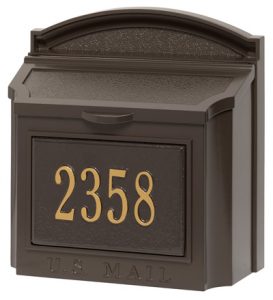 For homeowners who are fortunate enough to have walk-up postal mail delivery service, Wall Mount Mailboxes are the de facto mail collection device.  In this article, we'll explore four popular features that discerning homeowners seek when purchasing new wall mount mailboxes including:
Locking Wall Mount Mailbox
Mailbox Address Panels
Mailbox Window
Mailbox Flag
Locking Wall Mount Mailbox
The secure locking mailbox feature is one of the most important must-haves for homeowners. Locking wall mount mailboxes allow the postal carrier to deposit one's mail into a locking section of the wall mount mailbox that the homeowner can unlock with a key. Typical mailbox locks range from a secure 5 pin cam lock to high security locks designed to thwart mail theft in high crime areas. In fact, The MailboxWorks, the nation's leading distributor of Residential Mailboxes, notes that many mailbox models are now offering a locking feature, something which, in our challenging economy, is becoming more and more popular as an effective preventative measure against mail theft.
Mailbox Address Panel
Another popular feature of wall mount mailboxes is the mailbox address panel.  While most wall mount mailboxes can be labeled by the homeowner with stick-on address numbers, many wall mount mailboxes are now incorporating the mailbox address panel into the overall design. The three most popular address label solutions for wall mount mailboxes are attachment by mailbox plaque, spot weld, or slip-in holder.
Mailbox Plaque – Address panels, usually the address numbers of one's residence, are featured on wall mount Whitehall Mailboxes in the form of an address plaque that attaches to the front plate of the wall mount mailbox.
Spot Weld – The Streetscape Huntington Wall Mount Mailbox offers spot welded address numbers to their front plate.
Slip-In-Holder – Ecco mailboxes like the Ecco Black Fuoriserie Wall Mount Mailbox, offer a built-in holder on the mailbox lid for the homeowner to insert a card with his or her address upon it.
Mailbox Window
A third wall mount mailbox feature, now growing in popularity, is the inclusion of a mail window on the mailbox. This new feature allows the homeowner to look out a corresponding window or door peephole to see at a glance whether or not their mail has arrived. For homeowners living in challenging weather conditions, the mail window saves many false door openings to retrieve one's mail. Ecco Wall Mount Mailboxes offer this feature in both design and function through the inclusion of decorative holes in the front face of the mailbox that allow the homeowner to see if mail has been delivered. A translucent glass material over the holes provide both protection from the elements as well as visibility (for an example of this feature, see the Ecco 7 Wall Mount Mailboxes).
Mailbox Flag
And finally, a fourth feature is now being offered to homeowners who are looking for a way to signal that they have outgoing mail to be picked up; the red mailbox signal flag. This new feature has nowhere near the popularity of the above features in that most homeowners simply place outgoing mail in the same mailbox that the postal carrier uses for mail delivery, knowing that the carrier will likely check for outgoing mail even if there's no incoming mail to deliver. Yet one mailbox brand does offer this signal flag feature and for homeowners who are used to signaling a postal carrier, the mailbox flag buys peace of mind.  The Mailsafe Economy Locking Wall Mount Mailbox provides this feature; a small red flag for the homeowner to flip up to signal their mail carrier that they have outgoing mail.

Of course, in addition to these popular functional features, wall mount mailboxes are also available in a wide variety of styles, colors, and finishes to provide the perfect complement to any home.

Tags: Mailboxes, Residential Mailboxes, Wall Mount Mailboxes


Categorised in: Residential Mailboxes, Wall Mount Mailboxes