Choosing the Right Commercial Mailbox for Your Tenants – Part 2: Wall Mounted Commercial Mailboxes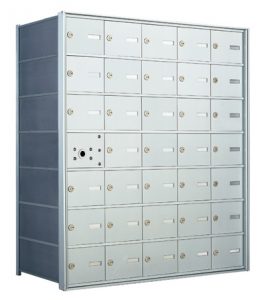 It is incumbent upon those who purchase equipment for apartment complexes, business centers, strip malls, and other residential and commercial multi-unit tenant developments, to constantly consider the needs of the tenants in their purchase decisions.  Those who make decisions through the filter of "tenant needs" find that their tenant retention rates are far superior to competing properties.
Additionally, so are the resulting income streams from much higher tenant renewal rates.  Thus, although it may seem that the purchase of tenant mailboxes for ones' property is just another decision of the day, the reality is that making the right choice for wall-mounted commercial mailboxes pays off well.
UPDATE: 4C Pedestal Mailboxes have been discontinued as of November 30, 2020. The USPS Cluster Box Unit (CBU) Mailbox is now the standard for all multi-family mail delivery.
As noted in part 1 of this article, Commercial Mailboxes are available for a variety of installation requirements but primarily these mailbox installations can be divided into two primary styles:
Commercial pedestal mount mailboxes
Wall-mounted commercial mailboxes
Part one covered pedestal-mounted commercial mailboxes. In this article, part two of a two-part series, the attention will be focused on the variety of wall-mounted commercial mailboxes available today and their suitability to particular property types.
4C Horizontal Commercial Mailboxes
For properties with just a few to thousands of tenants, USPS STD-4C Standard Commercial 4C Horizontal Mailboxes are often the most suitable choice.   Required by the United States Postal Service (USPS) for all new construction and major renovation projects, these rugged 4c mailbox suites (constructed of long-lasting aluminum and 300 series stainless steel) are available in myriad configurations of tenant mailboxes.
These 4C Commercial Mailboxes provide an ease of delivery for the postal carrier by allowing the postal carrier to open either the rear or the face of the entire commercial mailbox unit to deliver the mail.  4C commercial mailboxes that open at the face are called Front Loading 4C commercial mailboxes and units that open at the rear are commonly called Rear Loading 4C commercial mailboxes.
Aesthetically pleasing, the 4C commercial mailboxes are available in eleven different colors and five different tenant mailbox door identification placards.  The placards can be simple numeral identifications or actual tenant names.
These 4C Horizontal Mailboxes can be mounted in three different manners: recessed commercial mailboxes (into a wall), surface mounted mailboxes (with optional surface mount collars), or installed in a Vario Depot Mail Stand.  Each 4C commercial mailbox unit comes with the following:
(A) An outgoing mail slot that saves tenants the time of taking their mail to the post office;
(B) Three keys (typically the property manager manages the unit by holding one key and distributing the other two mailbox keys to the tenant)
(C) Parcel compartments so that parcels that are too large for the tenant mailbox may still be delivered (the mail carrier simply delivers the oversized parcel into the parcel locker and places the parcel locker key into the tenant's mailbox so the tenant can retrieve their package.  Once retrieved, the key to the parcel locker automatically remains in the parcel locker door for reuse.)
To keep the mail delivery area or room looking great (and green!), 4C commercial mailboxes can also be configured with trash and recycling bins that match the construction and color of the 4C commercial mailboxes.
USPS Approved Postal Distribution Horizontal Commercial Mailboxes (replacement use only)
If one simply needs to change out an older mailbox unit with a new replacement mailbox suite (perhaps to change the number of tenant mail compartments, color, or just to update the unit), the best choice may be the Postal Distribution Horizontal Commercial Mailboxes.  These units are constructed of aluminum and the built-in trim allows for easy installation into a wall recess.
These postal distribution mailbox units are approved by the USPS for mail delivery only when they are used as a replacement for an existing unit.   Also available in both front and rear loading styles, these commercial mailbox units work very similarly to the 4C commercial mailboxes in that the postal carrier unlocks a special latching master door to deliver the tenant's mail.
The Postal Distribution Horizontal Commercial Mailboxes are available in the popular anodized aluminum look as well as ten other powder coat applied color choices.  Additional options include name slots, mail slots, black fill engraving, combination locks, or hinged rear covers (for rear loading units).   All mailbox units are supplied with two keys.
Of course, even though approval is not required for replacement mailboxes, it is strongly recommended your local postmaster first review all commercial mailbox installations.
Vertical Commercial Mailboxes (replacement only)
For apartment and multi-tenant properties desiring to replace vertical commercial mailboxes, an excellent choice may be the USPS-approved Vertical Mailboxes.  While the vertical commercial mailboxes are designed for surface mounting or to be recessed into a wall, they can also be surface-mounted with the included surface mounting kit.  These postal distribution units are approved by the USPS for mail delivery only when they are used as a replacement for an existing commercial mailbox unit.
These vertical commercial mailboxes are available in standard door sizes, doublewide door sizes and with built-in collection boxes.  Constructed of heavy-gauge extruded aluminum and striated (crafted with small ridges in the finish) to resist scratching, these commercial mailbox units are available in anodized aluminum and ten powder coat finishes.  Doorbells for each unit are provided free when powder coat finishes are selected (but are still available as an option on the anodized aluminum units).
Each tenant mailbox compartment is six inches deep and is crafted in such a manner that the stainless steel hinges are concealed (to prevent mail theft).  Two keys per unit are provided.
While the 4C commercial mailboxes are USPS approved (that is they are not a brand new product), the option to mount the 4C commercial mailbox on a pedestal is new.  Thus, mounting the 4C commercial mailboxes for use as a pedestal-mounted commercial mailbox requires the buyer to first gain local postmaster approval before installation.   (Of course, if the 4C commercial pedestal-mounted mailboxes are not used for USPS mail delivery, no postmaster approval is required.)
Private Distribution Commercial Mailboxes (most often used by Universities & Colleges)
When considering a private use mail distribution solution (for situations where the mailbox will not be serviced by the US Post Office, one may choose to utilize 4C commercial mailboxes that are specially constructed for private use or horizontal commercial mailboxes that are commonly found on university and college campuses.

Private horizontal mailboxes such as University Mailboxes are available in a wide variety of tenant door sizes and are constructed of heavy gauge aluminum.  Color choices include anodized aluminum and ten distinctive powder-coated colors.  While the mailbox units come standard with either plastic number slots or free engraved door identification numbers, they may be upgraded with black filled engraving, engraved window tabs, slots in mailbox doors, combination locks, and parcel lockers.

Regardless of the type of multi-unit tenant application, specific commercial mailbox units are constructed for each property's needs.

Tags: 4C Mailboxes, Wall Mount Mailboxes


Categorised in: Commercial Mailboxes