USPS Standardization for 4C Commercial Mailboxes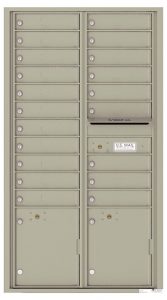 According to the United States Postal Service (USPS), 4C commercial mailboxes are required for:
New construction projects
Most renovation projects (unless the renovation is merely a redecoration or repainting project)
And the U.S. Postal Service is very upfront about the key reasons for standardizing 4C commercial mailboxes.
UPDATE: 4C Pedestal Mailboxes have been discontinued as of November 30, 2020. The USPS Cluster Box Unit (CBU) Mailbox is now the standard for all multi-family mail delivery.
4C Commercial Mailbox Security
Primarily, 4C commercial mailboxes provide much-improved confidence for both the security of the entire 4c mailbox suite and individual tenant mailbox compartments. Such improvement in mailbox security helps thwart mail theft and identity theft. In addition to increased mailbox security, 4C mailboxes provide easier access to the postal mail carrier while improving the postal carrier and tenant's ergonomics due to the flexibility in the design of versatile 4C mailbox suites.  Additionally, 4C commercial mailboxes are designed and constructed according to the USPS mandated quality management program, using only high-quality materials and a thorough labor process.
4c Mailboxes are Larger
The second standardization for 4C commercial mailboxes is to provide a significantly larger tenant mailbox compartment capacity to accommodate larger volumes of mail. Specifically, the minimum compartment sizes (which can be enlarged), are a generous 15" deep by 12" wide by 3" high. Even at this minimum individual mailbox size, there is adequate room for most magazines and periodicals to be placed in the tenant mailbox compartment without being rolled or folded.
Parcel Lockers for Package Delivery
Third, the augmentation of mailbox parcel lockers on all 4C commercial mailbox suites that have more than ten tenant mailbox compartments means that tenants are also provided with the convenience of receiving packages that would not otherwise fit in their tenant mailbox compartment. Receiving mail packages directly through the parcel lockers in 4C mailbox suites is a time saver for the tenant in that it allows tenants to avoid making a trip to their local post office to retrieve incoming packages.
Outgoing Mail Compartment
The fourth USPS standardization for 4C commercial mailboxes also offers the convenience of an easy-to-use and secure outgoing mail compartment, so that tenants do not have to try to send their mail from work or through a trip to the post office.
4c Mailboxes Meet other Federal Standards
Fifth, 4C commercial mailboxes must meet other federal standards such as the ADA (Americans with Disabilities Act), which ensures that those who install 4C mailbox suites will automatically accommodate the needs of disabled tenants. For developers who desire to be sensitive to the needs of the disabled, and to be fully compliant with ADA regulations, 4C commercial mailboxes are an excellent choice.
Discount Pricing & 4C Mailbox Expertise
Finally, for developers seeking expert assistance in selecting the best 4C commercial mailboxes for their application, The MailboxWorks (the nation's leading wholesaler of versatile 4C mailbox suites) provides both top-notch expertise and discount pricing for 4C commercial mailboxes.

Tags: 4C Mailboxes


Categorised in: Commercial Mailboxes