Most Unique Post Mount Mailboxes for 2016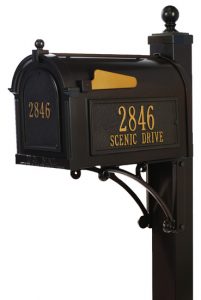 In this era of cookie-cutter homes, many homeowners make a concerted effort to have their residence be quite distinct from their neighbors. Often, however, key accessories such as the residential post mount mailbox, can be overlooked and relegated to mere duplicates of every other home in the community.
Yet, for those homeowners who desire to have more than just a standard curbside mailbox and want something that stands on its own, separate from that of their neighbors, the experts at The MailboxWorks (the nation's leading online retailer of residential post mount mailboxes) offers this preview into 2016's most unique post mount mailboxes.
Waterglass Studios' Unique Copper Mailboxes Post Mount
Reminiscent of the paradigm-shifting architecture of Frank Lloyd Wright, The MailboxWork's Waterglass Studios Handmade Copper Mailbox with Cedar Post stands out among the norm as a unique post mount mailbox with a hand-burnished, oxidized copper construction. This curbside handmade copper mailbox boasts twice the height of a standard post mount mailbox and features a clean, distinct, angular roofline. The copper mailbox is mounted on a naturally insect-repellent cedar post.  The burnished look and distinct design combine to create a truly unique post-mounted mailbox that looks like it has always been a part of your residence.
Whitehall Product's Unique Custom Mailbox and Post
Embedded with uniqueness through its fine-tuned ability to be personalized, each Whitehall custom mailbox and post is the sure-standout in luxury residential mailboxes. Choose from three mailbox colors, two mailbox post styles, two post finials, front and side panel options, as well as mailbox toppers for your address. Post cuffs and newspaper holders also help to create the ultimate in uniqueness for post-mounted residential mailboxes.
Bobi Classic Unique Post Mount Mailbox
Retro-designed around the street-corner classic mailbox collection box, The MailboxWork's Bobi Classic Post Mount Mailbox with Round Post is a sure bet to be the only one of its kind in your neighborhood. Designed and crafted in a small Finnish town, Bobi Classic mailboxes belie its name and are truly unique; they are certainly not mass-market produced. Yet, whether selected in black, stainless steel, white, grey, or the sure to attract attention red, these unique Bobi post mount mailboxes are not only an excellent choice but also a fantastic residential mailbox to use as it accommodates a week's worth of mail and has plenty of room for larger envelopes and magazines.
Unique Vega Stainless Steel Post Mount Mailbox
Producing a glimmer that is only possible with stainless steel, The MailboxWork's Vega stainless steel locking post mount mailboxes are among the most unique curbside mailboxes available to homeowners. Featuring a north-south curved orientation to the horizontal stainless steel mouth across the face, the Vega curbside mailbox uses marine grade stainless steel at two and a half times the thickness of other stainless steel mailboxes in the marketplace.
Woodendipity Unique Post Mount Mailbox
Update: The MailboxWorks no longer carries Woodendipity products. For more post-mount mailbox options, check out our selection here!

Among the most unique post-mounted mailboxes available are those in The MailboxWorks' line of Woodendipity post mount mailboxes. While definitely among those curbside mailboxes labeled "novelty," the Woodendipity post mount mailboxes are definitely a step above their counterparts. Consider the Woodendipity Noah's Ark Mailbox that features a Biblically correct two-by-two grouping of animals upon the deck of a well-constructed mailbox that is designed in the manner of an ark. Display a unique Woodendipity post-mounted mailbox at your residence and be sure to make a great first impression.

Tags: Mailbox Style Guides, post mount mailboxes


Categorised in: Residential Mailboxes