Stainless Steel European Home Mailboxes Are Designed to Last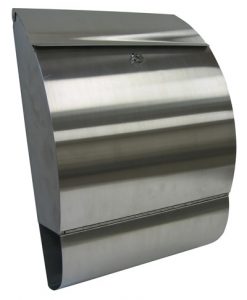 European Home mailboxes, available online at The MailboxWorks, are an extraordinary solution for any homeowner desiring a secure, contemporary, stainless steel mailbox with modern sleek design lines.
Why Are European Home Stainless Steel Mailboxes So Durable?
European Home mailboxes are crafted from AISI 316 marine grade stainless steel, the same core material utilized in the construction of surgical instruments and implants. This high-nitrogen grade steel has extraordinary resistance to pitting and corrosion.
The reasons why these 316 residential stainless steel mailboxes are deemed "marine grade" is straightforward. European Home stainless steel wall mount and post mount mailboxes:
Contain more nickel content and molybdenum than mailboxes made from the standard 304 stainless steel, typically used on modern appliances like stoves, refrigerators, pots and pans, etc.
Are made from the absolute best stainless steel material possible – for use on or near the ocean
Are extraordinarily resistant to salt water corrosion
Many homeowners who purchase European Home residential stainless steel mailboxes may not live near an ocean. Most however, find that the 316 stainless steel material used in these mailboxes do a top-notch job of resisting corrosion in any part of the United States where salt (used on the roadways in winter) invariably winds up not only beneath their cars but also upon everything along the roadway – including residential mailboxes.
For homeowners looking for a top-notch residential stainless steel mailbox that will stand the test of time against even the harshest weather and salty conditions, the European Home mailbox is the perfect choice.
Post Mount & Wall Mount Stainless Steel Mailboxes
While quality is a primary factor in the selection of stainless steel mailboxes, many homeowners choose a European Home wall mount mailbox or post mount mailbox simply for their beauty alone.
Available European Home stainless steel wall mount mailboxes include:
Capella
Curb Appeal
Jensen
Torgen
Good News
Available European Home stainless steel post mount mailboxes include:
Capella
Vega
Curb Appeal
View Point
Antares
Arcturus
All European Home stainless steel post mount mailboxes, except for View Point, are also available as stainless mailbox and post sets.
The smooth, clean, unadorned lines of both the polished and satin brushed stainless steel mailbox finishes on these European Home mailboxes are peerless among modern mailboxes.
Designed by Belgium artisans, the roadside curb appeal of European Home stainless steel mailboxes is not only striking but also unique.
Locking Stainless Steel Mailboxes
Beauty certainly does not fade with function however, as these European Home stainless steel mailboxes provide high quality Abloy security locks to ensure that mail gets delivered safely into the hands of the homeowner rather than into the hands of an identity thief.

European Home mailbox Abloy locks are designed on the distinct operating axiom of rotating detainer discs.

Inside the locking mechanism a series of discs rotate and operate in same fashion as a safe. Only after the correct key is turned ninety degrees (to rotate the discs and align the side bar gates) will the European Home stainless steel mailbox lock open.

And when the mailbox key is returned to the locking position to be removed (turning in the reverse direction), the mailbox key automatically scrambles the discs so that the key must be re-inserted to open the mailbox once again.

Like the 316 grade stainless steel, this Abloy locking mechanism is top-notch in quality.

If you are looking for a sleek contemporary residential mailbox in brushed stainless or high polished stainless steel, you are sure to find what you want in MailboxWorks' line of post mount and wall mount European Home contemporary stainless steel mailboxes.

Tags: Metallic Mailboxes


Categorised in: Residential Mailboxes