Architectural Oasis Locking Mailboxes: Designed for the Internet Shopper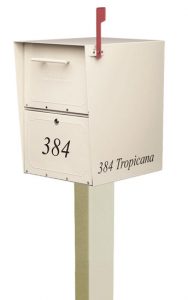 Conceived and handcrafted by a husband and wife team, The MailboxWorks line of Residential Architectural Oasis Mailboxes was originally designed to meet the needs arising from the rise in online shopping.
Chris Farentinos, the husband-side of the The MailboxWorks Architectural Mailboxes team, stated in a recent New York Times article, "We wanted to create mail receptacles that could accept delivery of large packages and keep the parcels safe and dry, no matter how long homeowners were away." The outcome of their goal became the Architectural Mailboxes consumer favorite, the post mount Oasis locking mailbox.
Oasis Security Mailboxes
By crafting the Architectural Mailboxes' Oasis line to accept secure delivery of packages, this innovative family also struck a blow against another high tech issue; identity theft. As homeowners across North America have experienced, it only takes the theft of one day's mail to create major long-term issues for a resident.
By providing secure locking post mount mailboxes, The MailboxWorks Architectural Oasis security mailboxes help thwart the devious intentions of those who seek to steal your mail or your identity. The Oasis mailbox locking mechanism is accompanied by a special hopper-style door, which eliminates a thief's ability to reach inside the Oasis mailbox on these popular Architectural mailbox models.
Homeowners who've purchased the Architectural Mailboxes Oasis locking mailboxes have raved about the quality construction and design features. Each post mount Oasis mailbox is constructed of 1.5mm thick steel with 2mm thick steel doors and each mailbox is assembled with professional spot-welds ensuring its longevity and strength.
The hopper and mailbox access doors are then sealed with rubber to prevent rain and other elements from ruining ones mail, magazines, letters, and packages.
Oasis Mailbox Colors
Architectural Mailboxes finishes each Oasis mailbox in a powder coat finish. There are five different Oasis mailbox colors to choose from:
Black
Bronze
Pearl Grey
Sand
White
Oasis Mailbox Address Lettering
Custom vinyl address lettering can be added to the Oasis mailbox in the colors of ones choice (black, bronze, silver, gold, copper, and white) for either the front or the side of the Oasis mailbox. The MailboxWorks ships the mailbox vinyl address lettering on an easy-to-apply sheet so that homeowners can place the mailbox address lettering exactly where they wish it to appear.
Architectural Mailboxes Oasis In-Ground Post
Homeowners can select Architectural Mailboxes Oasis drop box mailboxes from two available sizes:
Standard medium size
Or the Oasis mailbox large
Mailbox posts are also available with the Architectural Mailboxes Oasis locking mailboxes. Mailbox post options include:
Standard under mount post
Or deluxe side mount post with attractive finial
Dual Mount, Tri mount & Quad Mount Oasis Mailboxes
For suburban communities or businesses, that prefer to group mailboxes to save on post installation costs, Architectural Mailboxes Oasis locking mailboxes can be post mounted with up to four Oasis mailboxes per post.

And a post can always be eliminated when a homeowner prefers to mount the Oasis mailbox inside a brick, stone or stucco column.

Regardless of which Architectural Oasis locking mailbox is selected, homeowners can be assured that the delivery of their Internet purchases will be protected far beyond the capacities of a standard residential post mount mailbox.

Tags: Large Capacity Mailboxes, Multi Mount Mailboxes, post mount mailboxes


Categorised in: Locking Mailboxes