The Skinny on Mail Slot Mailboxes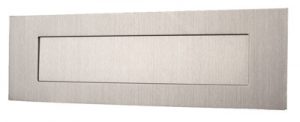 One of the safest and most convenient mailboxes available today is mail slots.  And yet the term mail slots can apply to both Residential Mail Slot Mailboxes as well as commercial mailbox slots for offices or business tenants.  For example, to some, mail slots are the myriad doors on a large apartment-sized commercial mailbox unit where multiple tenants pick up their mail from one spot.  To others, the term mail slot is a term used in colloquial conversation to describe the slot on every mailbox (residential mailboxes or commercial mailboxes) where the postal carrier slips the mail into the mailbox; the mail slot.
But in the world of the United States Postal Service (USPS) and those manufacturing USPS-certified mailboxes such as The MailboxWorks, the term "Mail Slot" refers to a horizontal insert, often aluminum, which provides an attractive mail slot cover for a simple slot in one's door or wall so that the postal carrier can drop the mail through the door or wall.  These residential mail slots (including mail slots for walls or mail slots for doors) allow the homeowner to avoid walking outside to retrieve their mail since the incoming mail simply passes through the narrow mailbox slots in their wall or door.
The MailboxWork's aluminum letter slot mailbox is crafted of extruded aluminum and features a mail slot cover door over the slot that is spring-hinged and weather-stripped around the outside.  The mail slot door can be smooth and blank or may be engraved with the words U.S. MAIL or any other short phrase.  Residential mail slot mailboxes are available in ten different finishes to complement any home's architectural color palette.  And, to provide an attractive finish on the inside of the door as well as the outside, the mail slots for doors are also available with an optional steel liner and backplate frame.
The MailboxWorks also offers mail slot mailboxes in timeless stainless steel finishes such as the European Home Mail Slot crafted of scratch and corrosion-resistant stainless steel in a stunning satin-brushed finish.  These modern mail slot mailboxes measure four inches high by thirteen inches wide and are among the largest residential mail slots available today.
European Home brand also offers a Letter Plate mail slot.  These letter drop mailbox slots are constructed of marine-grade stainless steel for longevity and stoutness.  Both a small-sized letter drop mailbox (3" high by 11.8" wide) and a large-sized letter drop mailbox (3.9" high by 15.7" wide) are available in two finishes:  polished stainless steel or brushed stainless steel.
For a more rustic look, The MailboxWork's Streetscape Executive Wall Mount Mailbox Slot is a very popular choice.  These four-inch high by eleven-inch wide handcrafted mail slots are constructed of heavy gauge brass sheets and bar stock.

The Streetscape mail slot is available with matching brass numbers to identify one's address.

For residential or commercial applications where one wants to secure the mail collection on the inside of a wall, consider the letter drop with the collection box.  This all-in-one commercial mailbox provides both the mail slot for mail delivery and the mail collection box for interior mail protection.  These letter drop collection boxes work extraordinarily well for multi-family apartment buildings, single-family homes, and business offices.  The letter drop collection box is constructed of durable aluminum and is available in eleven stylish color finishes. For commercial applications where several mail slots are desired in one combined mailbox, consider the cluster mailbox unit (also called CBU mailboxes), which allows a postal carrier to place mail in the unit all at once and up to 16 tenants to collect their mail by opening a mail slot door.  For in-wall applications, commercial property managers may also consider a 4C commercial mailbox unit whereby the same process can take place but for dozens of more tenants.

Tags: mail slots


Categorised in: Residential Mailboxes