When Mailbox Size Matters: Large Capacity Wall Mount Mailboxes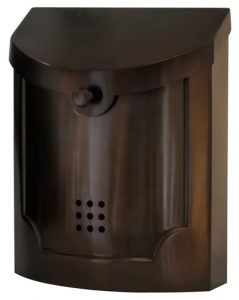 While all wall mount mailboxes easily accommodate standard-width mail, in this age of home-based businesses many homeowners are discovering that they need a large capacity mailbox, as standard-sized wall mount mailboxes simply cannot keep up with the growth of their business.
And of course, some homeowners who enjoy shopping online from the comfort of their home discover that large mailboxes are a necessity since their standard sized wall mount mailboxes are unable to hold all their incoming purchases or direct mail catalogues.
When it comes to home mail delivery, when mailbox size matters, The MailboxWorks offers several large capacity mailboxes that are both beautiful and bountiful.
Consider these five large capacity wall mount mailboxes:
Ecco 4 Wall Mount Mailbox
Capella Mailbox by European Home
Victorian Wall Mount Mailbox
Whitehall Wall Mount Mailbox
Townhouse Wall Mount Mailbox by Mail Boss
Large Ecco 4 Mailbox
For homeowners looking for the clean curves of contemporary mailbox design, the large Ecco 4 wall mount mailboxes are significantly larger than the standard Ecco 5 mailbox series. Ecco 4 mailboxes are very large mailboxes that are two inches taller and two and a half inches wider, which allow for even the tallest magazines and catalogues to be delivered without folding or rolling – no matter which way the postal carrier deposits them in the large Ecco 4 mailbox. With 693 square inches of mail capacity, the Ecco 4 wall mount mailboxes are also 12.5% deeper than the Ecco 5 mailboxes, which allow them to accumulate far more mail.
Very Large European Home Capella Mailbox
For very large mailboxes in the contemporary style look to European Home's large Capella wall mount mailboxes. These sweeping nineteen inch tall, very large wall mount mailboxes open like a vertical clamshell and are constructed of .08″ AISI 316 marine grade stainless steel and boast over 1300 square inches of mail capacity.
Very Large Victorian Mailbox
Another large capacity traditional mailbox option is the very large Victorian wall mount mailboxes. These ornately detailed, large wall mount mailboxes feature a pony express rider on the front of the mailbox and could handle nearly anything that the pony express could deliver with it's 1600 square inches of mail capacity.
Extra Large Whitehall Mailbox
For homeowners seeking a more traditional classic mailbox look, Whitehall wall mount mailboxes are a perfect choice. While the large Whitehall mailboxes are not so large as to dominate one's porch, they are 20% larger than standard wall mount mailboxes. Boasting 1800 square inches of mail capacity, these extra large, heavy duty wall mount mailboxes are nearly squared at fifteen inches high by sixteen inches wide. The seven and a half inch depth of the extra large Whitehall mailbox means several days of mail can easily accumulate.
Extra Large Townhouse Mailbox
For those looking for a feature-rich, large capacity mailbox solution in their search for a large wall mount mailbox, consider the extra large Townhouse wall mount mailbox by Mail Boss. Like the extra large Whitehall mailboxes, these Mail Boss Townhouse large capacity wall mount mailboxes also boast 1800 square inches of mail capacity. Additionally, the Mail Boss security features are crafted with anti-pry, high security mailbox latches and a lock to prevent mail theft and/or identity theft.

Tags: Large Capacity Mailboxes, Mailbox Style Guides, Wall Mount Mailboxes


Categorised in: Residential Mailboxes