Janzer Designer Mailboxes at Reasonable Prices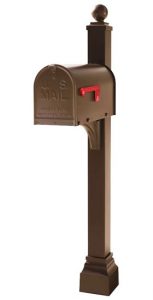 Available at The MailboxWorks, Janzer mailboxes by Gaines provide a significant upgrade to standard USPS residential post mount mailboxes without a corresponding upgrade in price.
Often sought out for their wide-berth of beautiful color choices (including gloss red, taupe, green, blue, bronze, and burgundy, among others), Janzer designer mailboxes have been a long-standing favorite of fashion-minded homeowners looking to enhance their residence with a contemporary exclamation of personality.
Formerly known as the Stoney Brae mailboxes (with executive post), these Janzer mailboxes are produced by Gaines Manufacturing and sold online only by that nation's leading retailer of both commercial and residential mailboxes, The MailboxWorks.
According to the experts at The MailboxWorks, "Janzer mailboxes provide homeowners with an inexpensive way to create what is often a very unique post mount mailbox. Not only do homeowners have nine Janzer mailbox designer colors from which to choose, they can also mount their Janzer mailbox upon a post in three different colors."
Janzer mailboxes color choices also include the expected color palate of a gloss grey, plus a textured black, textured white or textured bronze finish. Pair any of the mailbox color choices with a textured black Janzer mailbox post, a textured bronze post, or textured white mailbox post and the resulting combinations are most unique indeed.
The experts at The MailboxWorks state that, "Many of our designer-minded customers also like the decorative post cuffs that are available with the Janzer mailbox posts," adding "These designer cuffs are usually unavailable at the Janzer price point. They do a fantastic job of dressing up the mailbox post while hiding the usually unsightly intersection of post and ground."
In addition to the many unique sought after color combinations, The MailboxWorks report that homeowners also enjoy the larger capacity of the Janzer ultimate mailbox.

At 10 7/8" high by 8 5/8" wide by 21 1/8" deep, Janzer mailboxes provide 93% more interior space for your mail (Janzer post mount mailboxes hold 1981 cubic inches of space as compared to the standard USPS mailbox, which only holds 1026 cubic inches of mail).

Beyond size and color, Janzer mailboxes are also a homeowner favorite because they are made in the U.S.A. with a mindset for maintenance-free sustainability.

Resistant to the elements, Janzer mailboxes are constructed of heavy-duty, galvanized steel with an expertly applied, colorful powder coat finish that protects against rust and corrosion.

Janzer mailbox posts are also well constructed. Made of aluminum and stainless steel, to stand strong against natural elements, these residential mailbox posts are impervious to pests and stand strong against difficult weather conditions.

Another favorite option of homeowners who shop at The MailboxWorks for Janzer mailboxes is the ability to customize and apply one's home address to either side (or both sides) of the Janzer mailbox. Like the mailboxes they are applied to, these address labels are also available in a wide variety of colors such as black, bronze, gold, silver, or white.

To learn more about residential post mount mailbox options available at The Mailboxworks, or if you have any further questions about Janzer designer mailboxes, call The Mailboxworks toll free at 1-866-717-4943.

Tags: post mount mailboxes


Categorised in: Residential Mailboxes