Improving Your Home Security with Illuminated Address Plaques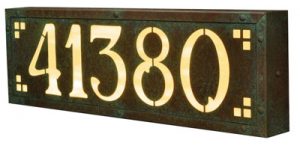 Without illuminated address plaques, it can be frustrating for anyone trying to find your home in the dark evening hours.
You may have a large address plaque mounted near your front door, but the lack of light simply makes it invisible. This is a common problem for most restaurant and pizza delivery personnel. Meals can grow cold while the delivery driver simply can't find your home because they can't see the address.
While this may be just a minor inconvenience for some of your guests, it can be a life-threatening issue if it's emergency response personnel who can't locate your home's address.
According to the experts at The MailboxWorks, the nation's leading retailer of address plaques and house numbers, the solution is simple: install an illuminated address plaque or sign.
Four types of illuminated address plaques are available online at The Mailboxworks:
Reflective Address Plaques
Solar Lighted Address Plaques
Battery Operated Address Plaques
Electronic Address Signs and Plaques
Reflective Address Plaques
In the absence of a power supply such as electricity, batteries, or solar power, reflective address plaques are designed with a reflective surface that mirrors or reflects back any light source that hits it, such as headlights, a flashlight, or even your phone light. Reflective address plaques make it easier for guests, emergency response personnel, and delivery persons to find your home address whenever it is dark out.
Some examples of reflective address plaques include:
The Majestic Vertical Safety 911 Reflective House Numbers can be mounted to your mailbox post.
The Majestic Vertical Reflective 911 Safety Double-Sided Yard Marker address plaque can be placed anywhere in the yard that is visible from the road.
Whitehall Concord Oval Reflective Standard Address Plaque can be mounted in any location you might mount a plaque.
Solar Lighted Addresses
If electricity or battery power is not available and you'd prefer to illuminate your address right on your post-mount mailbox, you might want to consider selecting a solar-powered address plaque that comes with a new post-mounted mailbox such as the Brightlight Solutions Solar Mailbox and Post. Solar-lighted address plaques harness the power of the sun during daylight hours in order to backlight the address plaque during the evening hours. A solar lamp is also known as solar light or solar lantern,
This solar powered address plaque utilizes six LED lights for illuminating the multi-sided address plaque that is mounted on the top of the mailbox post. A NiMH battery is included with the solar address plaque, providing power whenever the solar power is inadequate. The Brightlight Solutions Solar Mailbox and Post is available at The MailboxWorks, the nation's leading retailer of illuminated address plaques and mailboxes.
Battery Operated Address Plaques
If an electrical power source is not available you might want to consider installing a battery powered illuminated address plaque such as the Whitehall address plaque that runs on eight D-cell batteries. This battery operated address plaque utilizes an internal light sensor to automatically turn on and power the address plaque at dusk, and then turn it off again at dawn.
Electronic Addresses
The first consideration with electronic address signs is the availability of electricity to the location where you want to mount your illuminated address plaque. If the installation location already has electricity available, then it's best to install a 12-volt or 120-volt address plaque as they do not require reflection, sunlight, or battery changes.
How do you choose between 120-volt and 12-volt?
The experts at The MailboxWorks advise that you consider these key factors:
If your installation site is near water or in the ground, then the 12-volt illuminated address plaque is the safer option and less costly to install.
If you are installing the illuminated address plaque yourself, the 12-volt option is best, however, to avoid shocks, the 120-volt option requires a professional electrician to install.
If you are concerned about bulb life, 12-volt bulbs last longer than 120-volt bulbs.
12-volt illuminated address plaques are slightly more energy efficient than their 120-volt counterparts.
If, however, you are purchasing an electronic address sign for a new construction home, the electrician will likely prefer to install the 120-volt illuminated address plaque, as no transformer is necessary for 120-volt installations and conduit – which provides protection to the electrical line. Unless your project is new construction, or you prefer a 120-volt illuminated address plaque, most homeowners will find a 12-volt address light much easier to install than the 120-volt counterpart.

Additionally, for those looking for a power source near their front door, the experts at The MailboxWorks recommend you consider connecting to your doorbell. Many doorbells are already powered by a low voltage transformer and can be a great power source for an electronic address sign or plaque.

The QualArc Edgewood Large lighted address plaque, the QualArc Edgewood Oval lighted address plaque, and the QualArc Edgewood Vertical lighted address plaque are all pre-wired to be hooked up to 10-16 volt (low voltage) transformers that typically power doorbells.

Illuminated address plaques such as the Pasadena Art Glass LED Backlight plaque and the Willogen Art Glass LED Backlight plaque can be ordered with either voltage (120-volt or 12-volt).

Call the MailboxWorks at 1-866-717-4943 if you need help ordering illuminated address plaques.

Tags: Address Plaques & House Numbers


Categorized in: Residential Mailboxes