What Type of Horizontal Mailboxes Will Best Fit Your Needs?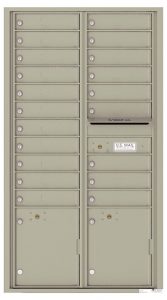 Commercial horizontal mailboxes are one of the most often deployed solutions for mail delivery in both business and apartment complex settings.  Yet the intricacies of the setting often dictate the type of horizontal mailboxes that should be installed.
Do you need help choosing which type would best fit your needs?
Standard 4C horizontal mailboxes
Standard 4B horizontal mailboxes
1600 horizontal mailboxes
1700 horizontal mailboxes
As you can see from the above, the standard product descriptions for commercial horizontal mailboxes are not enough to make an informed decision.  You will need to consider these two key factors first:
USPS or Private mail delivery
New construction or renovation
UPDATE: 4C Pedestal Mailboxes have been discontinued as of November 30, 2020. The USPS Cluster Box Unit (CBU) Mailbox is now the standard for all multi-family mail delivery.
Private Mail Delivery
The first consideration in purchasing horizontal mailboxes is to determine whether your project is for US Postal Service (USPS) mail delivery or private mail distribution.
For private mail delivery you can utilize any of the horizontal mailboxes products, although The MailboxWorks, the nation's leading distributor of commercial horizontal mailboxes, recommends that you consider utilizing the 1600 horizontal mailboxes or the 1700 horizontal mailboxes. Both are designed specifically for private mail delivery and are very economically priced.
1600 Front Loading Horizontal Mailboxes – These commercial mailboxes are designed for scenarios where you wish to load your tenant's mail through the front of the mailbox unit.
1700 Rear Loading Horizontal Mailboxes– These commercial mailboxes are designed for scenarios where you desire to load your tenant's mail through the rear or back of the mailbox unit.
USPS Mail Delivery
For applications that are not for private mail delivery but rather to be utilized by the US Postal Service, the second key consideration then is to determine whether your project is for a new construction or for a minor renovation. USPS defines minor renovation as "requiring no remodelling or modifications to the wall opening for the horizontal mailboxes".
New Construction – If your project is for new construction, then the standard 4C horizontal mailboxes are the only horizontal mailboxes that are authorized for use by the US Postal Service.
Minor Renovation – Certainly, 4C horizontal mailboxes may also be utilized for any remodelling projects as well; however, the standard 4B horizontal mailboxes (also called 2600 horizontal mailboxes) may be utilized in scenarios where one is simply replacing a unit with the same type of mailboxes.
Horizontal Mailbox Configurations
Regardless of which type of horizontal mailboxes you select for your application, myriad choices also arise as to configuration for individual tenant mailboxes and color finishes as well.

The MailboxWorks can assist you with any custom mailbox configuration project, with professional layout design by their mailbox experts. Just contact their experts at 1-866-717-4943 for immediate assistance.

Additionally, you can easily choose the most architecturally pleasing color finish by perusing any of the commercial mailbox product pages. Along with postal grey (the standard commercial mailbox finish), horizontal mailboxes come in eleven fine finishes including antique bronze, antique copper, black, blonde gold, dark bronze, forest green, gold speck, sandstone, silver speck, and white.

The MailboxWork's strongly recommends that you consult with your local postmaster prior to horizontal mailbox installation so that your mail delivery functions are both approved and efficient for your specific application.

Tags: 4C Mailboxes


Categorised in: Commercial Mailboxes