What Are Gang Mailboxes?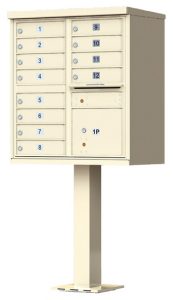 Designed to reduce United States Postal Service delivery costs, USPS gang mailboxes have multiple applications and are quickly becoming the de facto centralized mailbox delivery system of choice as:
HOA Home Owner Association Mailboxes
Industrial Park Mailboxes
University & College Mailboxes
Military Base Housing Mailboxes
Mailboxes for Business Complexes
Apartment Mailboxes
Condominiums and Multi-Family Housing Mailboxes
In fact, gang mailboxes, which are also commonly known as CBU mailboxes or cluster box unit mailboxes, are an extraordinarily secure outdoor mail delivery system as compared to regular post mount mailboxes.
Constructed from heavy-duty extruded aluminum with welded seams instead of rivets, and featuring 360-degree wrap around stainless steel hinges (plus durable powder coating), gang style mailboxes resist damage not only from the elements but also from vandalism.
Additionally, Florence cluster box units are supplied with an outgoing mail slot that can be ordered through The MailboxWorks with a seal to provide even greater protection against mail thieves who try to fish out tenant's outgoing mail.

How Do Gang Style Cluster Mailboxes Work?
The security features on gang mailboxes allow the postal carrier to open the master door using one special cluster mailbox key. He can then access the entire cluster box unit and deliver the mail to each individual tenant mailbox. Each tenant would then utilize their own tenant mailbox key to open the special five-pin cylinder cam lock on his or her mailbox.
If the postal carrier has a larger item or a parcel to deliver to the tenant, the carrier would place that item into the gang mailbox's special parcel locker and place the key to that parcel locker into the tenant's mailbox. The tenant would then use this special key to open the parcel locker door and retrieve the package.
Once inserted by the tenant, the parcel locker door key remains securely held in the lock and can only be removed by the postal carrier on their next visit. This is a foolproof mail package delivery system ensuring that the tenant receives their parcel and the parcel locker keys do not get lost or misplaced.
Gang mailboxes are available in four distinct cluster box mailbox configurations that include:
8 door mailboxes           12 door mailboxes
13 door mailboxes        16 door mailboxes
Additionally, for tenants that receive a significant amount of packages, gang mailboxes can also be ordered with up to four parcel lockers on the Florence cluster mailboxes.
Gang mailboxes can be specified with standard silver placards to label each tenant mailbox unit door, or they can be engraved to specifications.
To assist developers and architects with the overall look and design of their residential or commercial project, gang mailboxes are available through The MailboxWorks in four distinct colors including postal gray, sandstone, dark bronze, and black.
When shopping for Florence cluster mailboxes, you should also be careful to note whether or not the mailbox vendor is quoting or pricing them with or without the mailbox pedestal and with or without shipping fees.
When you order your commercial gang mailboxes through The MailboxWorks, your order also includes:
A free mailbox pedestal for each gang mailbox ordered
Plus free shipping anywhere within the continental United States
For developers, architects, and HOA homeowner associations that require more than one gang mailbox, the experts at The MailboxWorks will also provide professional guidance and can help you with the ordering process. The Mailboxworks also offers significant discounts on Florence cluster mailboxes that are ordered in quantities.

For more information about gang mailboxes at The Mailboxworks, please send us by email or contact our mailbox experts toll free by calling 1-866-717-4943.

Tags: Apartment Mailboxes, CBU Mailboxes, Commercial Mailboxes


Categorised in: Apartment Mailboxes, Cluster (CBU) Mailboxes and Accessories, Commercial Mailboxes