World's Best Wall Mount Mailbox by Gaines
Why should the Gaines wall mount mailbox be considered the world's best residential mailbox?
There are a lot of reasons. In this MailboxWorks' blog post we'll look at the options, features, and unique benefits that the Gaines mailbox provides to you, the homeowner.
How the Gaines Wall Mount Mailbox Is Made
The distinctive and elegant design of this wall mount mailbox by Gaines Manufacturing is the first thing that sets this mailbox apart from other residential mailboxes. However, it is the way the wall mounted mailbox is manufactured that contributes to its popularity and its excellent reputation.
Every Gaines mailbox:
Is constructed out of A-360 rust proof aluminum with reinforced mailbox door hinges
Includes powder coating – in five stages for added durability
Has a large capacity – larger than average to accommodate several days worth of mail and magazines
Features a padded, soft close mailbox door
Includes mounting hardware and mounting template
Comes with an optional lockable mailbox insert (which can also be easily removed as needed)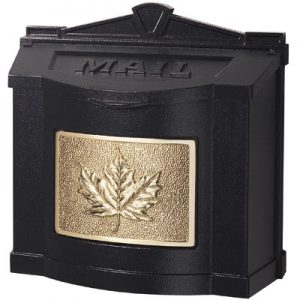 Each of these large capacity wall mount mailboxes measures 14.75 inches high, 14.875 inches wide, and 7.5 inches deep providing an extraordinary capacity advantage over most other mailboxes on the market.
The larger capacity not only allows the Gaines wall mount mailbox to hold more than a single day's worth of mail, but it also accommodates larger mail pieces, including envelopes and magazines, without having to fold or roll them.
Gaines Wall Mount Mailbox Faceplates
Along with your choice of three different mailbox colors (white, bronze, and black) you can custom order your new Gaines wall mount mailbox with a matching faceplate in either antique bronze, polished brass, or satin nickel.
Gaines Manufacturing also provides three options for the faceplate relief, with your choice of faceplate background including:
American Eagle
This Gaines eagle wall mount mailbox features an elegantly patriotic American Eagle emblem on the faceplate with your choice of white, polished brass, antique bronze, or satin nickel faceplate textured background.
Maple Leaf
This faceplate design on the locking Gaines maple leaf mailbox, features the maple leaf emblem with your choice of polished brass, antique bronze, satin nickel, or all black faceplate textured background.
Fleur de lis
The faceplate for the Gaines Fleur de lis mailbox features a unique Fleur de lis emblem with your choice of white, polished brass, antique bronze, or satin nickel faceplate textured background.
Still Have Questions About Gaines Mailboxes?
With so many choices for mailbox color, faceplate color, and faceplate emblem design, you are sure to find the right architectural finishes and features to compliment your home's décor. In fact, you can also compliment your new Gaines wall mount mailbox with a matching Gaines home address plaque.

The Mailboxworks is the nation's leading online supplier of residential wall mount mailboxes.

If you have any questions about our line of Gaines mailboxes, please send us an email or call our mailbox experts toll free at (866) 717-4943.

Tags: Large Capacity Mailboxes, Wall Mount Mailboxes


Categorised in: Residential Mailboxes