Torgen Wall Mount Mailbox New at The MailboxWorks!
Although considered to be part of the fashionable lineup of European Home mailboxes, the stunningly crafted, stainless steel Torgen mailboxes wall mount are expertly designed and manufactured in the United States!
If you are looking to augment the contemporary style of your home, do give some serious consideration to the unique, modern architectural style of the European Home Torgen mailbox, the newest, residential wall mount mailbox design available at The Mailboxworks.
The Torgen locking mailbox is an excellent choice. It is constructed of .03-inch-thick, 304 type stainless steel and it comes with 2 mailbox keys. It is also exceptionally designed to provide secure protection against both identity theft and mail theft.
According to the mailbox experts at America's leading retailer of wall mount mailboxes, The MailboxWorks, "Most honest people never consider how easy it is to simply pilfer mail from neighborhood mailboxes. But thieves always look for the easiest way to make a quick buck. And stealing mail offers that route." The Mailboxworks also state that, "The locking mechanisms used on the wall mount mailboxes we sell, such as the Torgen mailboxes, makes it very difficult for criminals to get at your mail."
Besides the security features inherent in the European Home Torgen mailboxes, these are modern wall mount mailboxes designed to complement the architectural features of today's modern homes.
Torgen mailboxes also feature a satin-brushed finish upon a curved door construction and an architecturally sleek square of stainless steel that signals to every passerby, "This home is no ordinary residence."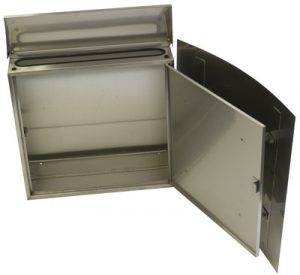 In addition to the security and beauty of the Torgen mailbox, the large mailbox capacity is another great feature that homeowners quickly appreciate.

While many homeowners retrieve their mail each day, the Torgen mailbox offers more than 1000 cubic inches of interior mail space as well as a thirteen-inch-wide by one and half inch-deep mail slot that can easily accommodate most magazines without folding.

The Torgen mailbox is also easy to mount and all installation hardware for mounting this wall mount mailbox is included when you order the Torgen mailbox from The MailboxWorks.

The European Home Torgen wall mount mailbox is also available with an optional newspaper holder. Most often, mailbox newspaper holders are mounted beneath the Torgen mailbox, however this particular mailbox newspaper holder is different than most in that it is a completely separate unit that does allow for mounting in any other location.

This is a helpful feature even when mounting below the Torgen mailbox, as the distance between the Torgen mailbox and the Torgen newspaper holder can be adjusted to fit the architectural distinctive of the mounting surface.

Visit The Mailboxworks to see our complete line of European Home Mailboxes. To learn more or to order the European Home Torgen wall mount mailbox, please call our mailbox experts toll free at 1-866-717-4943.

Tags: Metallic Mailboxes, Wall Mount Mailboxes


Categorized in: Residential Mailboxes