Secure Elephant Trunk Drop Boxes for Parcel Delivery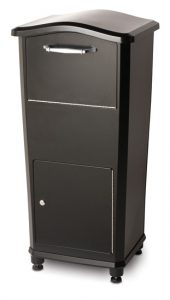 Take a look at the Elephant Trunk locking mailbox drop box by Architectural Mailboxes. This exceptional mailbox is available at The MailboxWorks, North America's leading online residential and commercial mailbox supplier.
One of the more challenging aspects of running a home-based business or even just shopping online is sending and receiving packages and oversized mail.
The sheer number of different delivery companies (FedEx, DHL, UPS, etc.) means that one cannot just set a mail package out for delivery and hope that the right company picks it up. Nor can one simply leave the house for lunch without the risk of missing an important package delivery or pickup, all the while exposing that mail package to possible theft.
The Elephant Trunk locking mailbox drop box is an ideal solution to missing parcel deliveries and pickups.
Benefits of Elephant Trunk Locking Mailbox
Constructed of heavy gauge steel and cast aluminum panels that are powder coated in your choice of black, white, red, or oil rubbed bronze, the Elephant Trunk delivery box is a long-lasting and attractive solution for your large mail and package deliveries.

The Elephant Trunk locking mailbox drop box can accept mail and packages as large as 11 ½ inches by 9 ¼ inches by 7 ¼ inches and offers an elegant solution for securing your oversized mail and small parcels when one is not home to receive them.

Architectural Mailboxes Elephant Trunk mailboxes have a special rotating drum design to ensure that when a delivery company drops off a mail package, that package will remain secure until you retrieve it.

And, when you want to send a package, the Elephant Truck mailbox has a signal flag design that allows you to leave packages behind the outgoing partition for a simple pickup by your carrier.

The well-designed parcel drop door also features a magnetic catch so your package stays protected from the harsh outdoor elements while awaiting pickup.

Additionally, the Elephant Trunk drop box mailbox is also equipped with a bright yellow indicator to signal "No Deliveries" to your carrier when you are away. This allows you to be able to go out of town knowing that your mail and package deliveries are awaiting you at your carrier's secure location rather than filling up your drop box mailbox.

When you are ready to pick up your delivered parcels, a retrieval drop box door is easily opened with one of the two accompanying mailbox keys. And you can rest easy as this parcel retrieval door is engineered and constructed with a pry-resistant 3-point lock system.

Your mail and packages will always be safe right where your carrier delivered them.

Installation of the Elephant Trunk locking mailbox drop box is also straightforward; your purchase also includes bolts to anchor the drop box to a hardscape or wood surface, so that the entire unit cannot be taken from where you wish it to be installed.

Additionally, Elephant Trunk locking drop boxes arrive with a placard to place above your doorbell so that delivery drivers are directed to your Elephant Trunk drop box instead of leaving your parcels or oversized mail on your doormat.

To learn more about Elephant Truck locking mailbox drop boxes or to speak with our mailbox experts, please call 1-866-717-4943.

Tags: Collection & Drop Boxes, Large Capacity Mailboxes


Categorised in: Locking Mailboxes