Head-turning Ecco Mailbox Style…From Fuoriserie Brooklyn?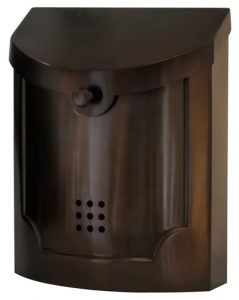 In Italy, Fuoriserie means specially built or outstanding. In Brooklyn, New York it means extraordinary mailbox design as in the Fuoriserie post mount and wall mount Ecco mailboxes. Taking their cues from the three dominant architectural styles on the very streets of Brooklyn, the designers at Fuoriserie at 351 37th Street have created three stunning lines of price-friendly Ecco Mailboxes. So, where did they walk to find their inspiration?
Modern and Contemporary Styles of Ecco Mailboxes
Perhaps Fuoriserie designers were having coffee in Steven Holl's modern glass sheeted school building that faces onto St. James Place when they created their stunning line of what they simply call the Ecco E1, Ecco E2, Ecco E3, and unsurprisingly the Ecco E4 mailboxes.
Perhaps as the designers of Fuoriserie sat in this modern edifice they noticed that it connects two buildings whose footprints are in an awkward disposition to each other. The E1, E2, E3, and E4 Ecco mailboxes all seem to have this "connecting" quality. Consider the extraordinary style choice of Fuoriserie designers in deciding to integrate a western leather label on a stainless steel Ecco mailbox. It's a connection that most would not consider. But it works. Modern styling that fits with a variety of other styles without looking "out of place."
The E1 and E2 Ecco mailboxes have a simple, clean design that features a rounded front exterior and modern detail that contributes to a light and airy feel. And the Ecco 1 and Ecco 2 mailboxes feature a benefit not often found in modern mailbox design: practical functionality. These Fuoriserie Ecco mailboxes feature see-through, square openings on the front that allow homeowners to easily spot incoming mail. A label holder on the mailbox lid is also supplied for an easy to insert mailbox house number or family name.
Like Holl's modern "connecting building" that highlights the awkwardness of its purpose by bringing a sense of community to the neighborhood thru the creative courtyard and extensive lighting that draws Brooklynites together in the evenings, the modern line of E1 Ecco and E2 Ecco mailboxes draw interest much like a "bug light" zaps its prey. Like the Holl building, the Ecco mailboxes are modernity at its best – stark yet inviting. Even if you're not the neighborhood postman, you'll be drawn to touch and explore the simple beauty of the Fuoriserie Ecco mailboxes.
Even newspaper carriers would enjoy Fuoriserie's modern line of Ecco mailboxes as the Ecco 1 and Ecco 2 offer an optional curved newspaper holder with square perforations.
Victorian Style Ecco Mailboxes
Fuoriserie Ecco mailbox designers could hardly walk a hundred yards — in any direction — in Brooklyn without encountering the vibrant neighborhood's most dominating style: therefined and stately Victorian Brownstone. Unlike their west coast counterparts, the flashy "Painted Ladies" of San Francisco, these brownstones project a sense of maturity and restrained embellishment.
It is that sense of stately maturity and refined elegance that Ecco mailbox designers feature in their Ecco 6 and Ecco 8 designer mailboxes. These Victorian style Ecco mailboxes are accentuated by classical motifs that bring to memory the old world charm and decorum of the stately Brownstones of Brooklyn. Featuring crisp and bold die cast detailing, Ecco mailbox designers created a rust proof residential mailbox that offers "weathered" finishes. And although the Ecco 6 mailboxes look antiquated, each is equipped with a five-pin cam lock designed to prevent mail theft.
Arts & Crafts Style Ecco Mailboxes
Could Fuoriserie designers be inspired by Arts and Crafts style in Brooklyn? One would think not. When a style needs more than the typical 25 foot urban plot available, Arts and Crafts variety is rare. But Ecco 7 mailboxes find their inspiration on the inside of Brooklyn's Art & Craft décor.

Even though you won't find this style from a Google street view, the Arts and Crafts influence is alive and well on many Brooklyn interiors. As one visits the homes of Renaissance Revival row and various homes scattered in southern Brooklyn, Arts and Crafts is depicted in the beamed ceilings and choices of fireplace mantles and tiles. The Kindo duplexes of Park Slope and Crown Heights built in 1913 utilize many craftsman features such as paneling, tiles, lighting, French doors, wainscoting, plate rails, open layouts, and other typical arts and crafts details.

It is this very Arts & Crafts style that Fuoriserie Ecco mailbox designers bring to the front porch of homes wanting the very best in Arts & Crafts design. The Ecco 7 mailbox is handcrafted in solid brass and features a wide horizontal lid for easy access to the mail. Translucent acrylic windows peak thru the Ecco 7 mailboxes front along with contrasting ornamentation that is meticulously soldered to the lid and front of the Ecco mailbox. Installed with no visible hardware, Ecco 7 mailboxes are inspired Arts & Crafts design.

The complete line of all Fuoriserie Ecco Mailboxes is available at The MailboxWorks – including their stunning die cast metal numbers that go especially well with their E4 and E7 Ecco mailboxes. The 4 inches high by 3/16 inch thick numbers are pin mounted and stand out from the wall surface without any visible mounting hardware.

Tags: Mailbox Style Guides, Metallic Mailboxes, Wall Mount Mailboxes


Categorised in: Design Inspiration & Gift Ideas