Italian Designed Ecco Wall Mount Mailboxes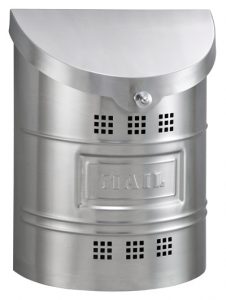 For homeowners seeking a unique and contemporary, residential wall mount mailbox for sale, the Ecco Mailboxes by Fuoriserie (an Italian design firm) offer an excellent place to start the shopping process. Designed with a curved front panel and sloping top door, these Ecco wall mount mailboxes are easy to install and use and an excellent choice for anyone looking for wall mount Residential Mailboxes.
Patterned with six sets of nine square windows along the front curved panel, this contemporary feature of the Ecco mailbox has a very practical use; it allows the homeowner to quickly and visually check to see if one's mail has arrived. The sloped top mailbox door allows the carrier to drop the mail in the residential Ecco mailbox easily and conversely allows the homeowner to retrieve the mail just as easily as it was delivered. The Ecco wall mount mailbox is offered in three primary material constructions:
Stainless Steel
Painted Steel
Solid Brass
Stainless Steel Ecco Mailbox
The ever popular stainless steel Ecco wall mount mailboxes are offered in two sizes including small Ecco mailboxes (E1) or large Ecco mailboxes (E2). Both Ecco 1 and Ecco 2 mailbox sizes can be customized with three options; brushed or polished steel finish, leather or steel front panel labels, and a tidy mailbox newspaper shelf.
Painted Ecco Mailbox
The painted steel Ecco 2 wall mount mailbox is available only in the large size and in a sleek satin black paint finish. This stunning black Ecco mailbox is adorned with a bold MAIL lettering embossed across the middle of the front panel. No matching newspaper shelf is available although one may pair either the polished stainless steel or brushed stainless steel newspaper shelf with this black Ecco 2 mailbox design.
Solid Brass Ecco Mailbox
The solid brass Ecco 4 wall mount mailboxes have subtle design differences with the Ecco 1 mailboxes and Ecco 2 mailboxes. The primary difference being reduction of the iconic square windows that define the E1/E2 models into one set of nine round windows displayed in the lower center portion of the front rounded mailbox panel.

These Ecco 4 mailboxes are available solely in the large size and in six beautiful finishes:

Bronze Ecco Mailboxes Black Pewter Ecco Mailboxes

Satin Brass Ecco Mailboxes Antique Copper Ecco Mailboxes

Copper Ecco Mailboxes Satin Nickel Ecco Mailboxes

All six of the mailbox finishes are layered with a professionally applied clear coat lacquer to both protect the finish as well as give it an elegant, polished appearance. The brass Ecco 4 mailboxes have a sleek finish unadorned with labels or lettering. Instead, the Ecco 4 mailbox is offered with four inch high matching Ecco address numbers in each of the six finishes.

Ecco mailboxes are unique, contemporary Wall Mount Mailboxes and available at the MailboxWorks.

Tags: Metallic Mailboxes, Wall Mount Mailboxes


Categorised in: Residential Mailboxes