How to Choose the Right dVault Mailbox Dropbox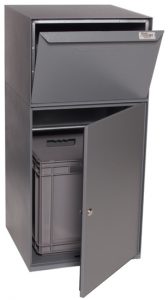 If you are a business owner or property manager looking for the perfect secure dropbox mailbox, The MailboxWorks offers several dVault mailbox options for roadside mail and package delivery.
The dVault line of dropbox mailboxes allows you to receive secure deliveries from the USPS, FEDEX, and UPS whenever you are not at home (or in the office) to receive your package.
Additionally, these locking dVault mailbox options can also be utilized as a dropbox for non-package deliveries such as key drops, book drops, small equipment returns, or other special applications. The MailboxWorks can also produce custom lettering that can be applied on the dropbox door to signify the specific delivery type.
To choose from available dVault mailbox options, first consider these three factors specific for your needs and/or the needs of your customers:
Dropbox Safety
Convenience
And Appearance
Dropbox Mailbox Safety
While most dropboxes are located to ensure the safety of the delivery person who is dropping an item in the dropbox mailbox, it's also a good idea to consider the safety of the employee, or the individual who will be collecting the items from the dropbox.
If the dropbox mailbox will be located along a street so that a vehicle can pull up and drop an item into the mailbox without exiting the car, consider installing a rear access dropbox like the dVault DVCS0020 deposit vault. The mail or package collection can then safely take place on the opposite side of the dVault dropbox, away from any danger that a busy street my pose.
Dropbox Mailbox Convenience
The most expensive dropbox mailbox is one that does not get utilized. The key to proper utilization is to install the dropbox mailbox in a location that can be safely and easily accessed by you and the delivery personnel.
Excellent choices include, but are not limited to, circle drives or side lanes that allow a vehicle to swing out of traffic without the fear of being rear-ended. Additionally, consider the height your customers or personnel may need to easily insert their items into the dropbox.
Both the front access dVault DVCS0023 collection vault and the rear access dVault DVCS0020 collection mailbox are forty inches high, which positions the insertion door at a height easily accessed by most vehicles, especially cars.
If you require a dropbox that positions the access door a foot higher, consider purchasing The MailboxWorks' pedestal mounted dVault DVCS0030 deposit vault. The additional height is especially helpful for customers or individuals who drop off items by walking up to the box or by depositing the items from the comfort of a SUV or truck.
For mixed traffic to the dropbox mailbox, please note that all three dVault mailbox options can be accessed from a car or truck. It is simply a matter of estimating which height may be more frequently convenient.
Dropbox Mailbox Appearance
The dVault mailbox options at the MailboxWorks are also available in five distinct powder coat finishes including black, white, grey, sand, or copper vein.

When considering which finish to select for your dropbox mailbox order, drive or walk by the proposed installation location and identify the background colors. Many business owners don't want to draw unnecessary attention to a utilitarian device such as a dropbox mailbox so they choose a color that allows the mailbox to blend in with the overall architectural or landscape setting.

However, the choice is yours if you feel you wish to install a unit that it is highly visible and in a color that provides the highest contrast with the background setting.

All dVault mailbox options available at The MailboxWorks are for roadside package and mail delivery. For assistance, please call one of our mailbox experts toll free at 1-866-717-4943 or send us an email.

See also our earlier blog article entitle Why Upgrade to dVault Delivery Vaults.

Tags: Drop Boxes, dVault Mailboxes, Locking Mailbox, Mail Drop


Categorised in: Brands and Manufacturers, Collection and Drop Boxes