Wall Mounted Key Drop Box and Collection Box Options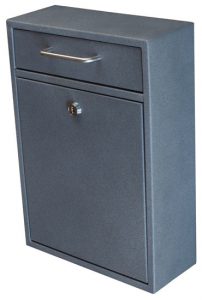 Does your business need a wall-mounted key drop box to better serve your customers?
For instance, an after-hours key drop box is ideal if you operate an auto service business such as a glass replacement shop, an auto body shop, mechanic services, or any other service such as detailing or vehicle wrapping.
Since not all clients can deliver their vehicle to your shop during your business hours, a night key drop box addresses the challenge in finding a secure way for the client to provide you with the keys to his or her vehicle, along with detailed instructions as to the type of services they need.
To provide a professional way for your clients to securely leave their keys and service instructions, consider these three wall-mounted dropbox options, available online at The Mailboxworks:
Slot mail dropbox
Commercial drop box collection box
All-in-one letter drop and collection box
Slot Mail Drop Box – For businesses where you prefer the client to drop his or her keys through a mail-type slot (such as a slot in a door or wall), consider purchasing an aluminum letter drop mailbox drop slot that can be installed inside a door or in nearby siding.
Commercial DropBox – For commercial businesses that need a large opening for their clients to drop off not only keys but also manuals and larger packages, consider the commercial drop box collection box.
Letter Drop Collection Box – For businesses that want to secure the client's keys on the inside of the door or wall, consider the all-in-one letter drop and collection box combination, complete with a steel liner that is installed through the wall.
All three versions of this wall mounted key drop box and collection box combination can be ordered in any of Auth Florence's nine mailbox finishes that include an anodized, striated aluminum finish plus eight powder coat finishes (silver speck, gold speck, black, white, sandstone, antique bronze, dark bronze, and postal grey).
For an even larger through-the-wall drop box option, consider the dVault package drop vault, which is ideal for installation between a front door and garage, as it is easily installed between wall studs.
Surface Mount Drop Boxes
Florence Manufacturing also makes large surface mount drop boxes for commercial businesses that prefer to have clients drop their keys into a surface mounted dropbox.
There are several dropbox options to choose from in this category including:
Epoch Design locking wall mount mailbox
Architectural Mailboxes Metropolis collection box
European Home locking wall mount mailbox
European Home viewpoint locking wall mount mailbox
Or any of the Architectural wall mount mailboxes (Lunada, Soho, or Peninsula)
These surface mount drop box mailboxes and collection boxes can be mounted to any sturdy surface, providing a wider array of mounting options and a quicker installation process than the mail slot type dropbox mailboxes.
Pedestal Drop Box Mailboxes
For any business that prefers not to have their client's keys dropped through a wall or into a wall-mounted mailbox, one should consider purchasing a freestanding pedestal collection box.

Pedestal mount collection mailboxes can be placed in a variety of locations including the parking lot, along the drive or walkway, or even on a patio, plus they provide a convenient flattop hard surface that the client can utilize to complete shop forms before dropping them into the collection box with their keys.

To find out more about commercial dropbox mailbox options contact our mailbox experts at The Mailboxworks.

Tags: Collection & Drop Boxes, mail slots, Wall Mount Mailboxes


Categorised in: Commercial Mailboxes