CBU Mailboxes Earn LEED Certification Points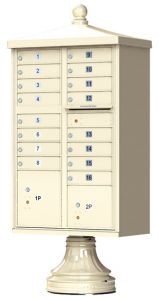 The MailboxWork's CBU Mailboxes provide building owners with significant points towards LEED certification.
LEED stands for Leadership in Energy and Environmental Design and is a voluntary, yet verified program that rates the environmental impact of building projects. Typically, building projects must earn a minimum of 40 LEED points on a 110-point scale to earn the basic Leed certification.
By specifying CBU mailboxes from The MailboxWorks, builders can earn points in the following LEED categories:
Recycled Content
Construction Waste Management
Regional Material Use
Individual State Regional Priority
Recycled Content
CBU mailboxes from The MailboxWorks earn up to 4 credits for recycled content. The MailboxWorks CBU mailboxes are built with recycled materials, which in turn reduce the harm that can come to our environment through the extraction of virgin materials.
Each of The MailboxWorks CBU mailboxes, regardless of size, is manufactured primarily of aluminum that includes 30% post-consumer recycled content and 20% pre-consumer recycled content. Therefore, 40% of the total dollars spent on ordering CBU mailboxes from The MailboxWorks may contribute to the Recycled Content Credit.
Construction Waste Management
The MailboxWork's CBU mailboxes also earn up to 2 credits for construction waste management. CBU mailboxes typically qualify for Leed credits because these commercial mailboxes and their packaging are both 100% recyclable.
Regional Material Use
Additionally, The MailboxWorks CBU mailboxes may also earn up to 5 credits for regional material use if the CBU mailboxes are used with 500 miles of The MailboxWorks manufacturing site in Manhattan, Kansas.
Thus, project sites as far north as Minneapolis-St-Paul, Minnesota, as far south as Dallas, Texas, as far west as Denver, Colorado, and as far east as Champaign, Illinois would all be within the 500 mile radius and would all support the use of indigenous materials and reduce environmental impacts resulting from long-haul shipping.
State Regional Priority
Finally, CBU mailboxes from The MailboxWorks may also earn an additional bonus credit (1 credit) if they meet the regional priority set by the state region in your area.
As each state region's credits differ according to the priority set in the region, please consult the LEED list of state regions to determine whether the CBU mailboxes you purchase will qualify for this bonus.
For builders and architects who are seeking to utilize resources responsibly, CBU mailboxes from The MailboxWorks are excellent products to specify.
Not only do commercial CBU mailboxes assist you in earning LEED certification, they also provide ongoing financial savings to the projects you oversee as well as reduce the impact to the environments in which they are installed. How?
CBU mailboxes provide financial savings because they:
Offer an economical manner to provide mail delivery to your tenants
Have low maintenance costs
Plus, their very design reduces the number of mail stops on a typical postal carrier's route and therefore reduces carbon emissions.

Tags: Cluster Box Unit (CBU) Mailboxes


Categorised in: Commercial Mailboxes